ESI is saying farewell and good luck to this summer's class of talented interns. We've asked them to reflect on their time with us, and to offer their unique perspective for future interns. Thank you for your contributions to ESI. We wish you the best of luck in all future endeavors!
First, let's meet ESI's 2019 summer interns.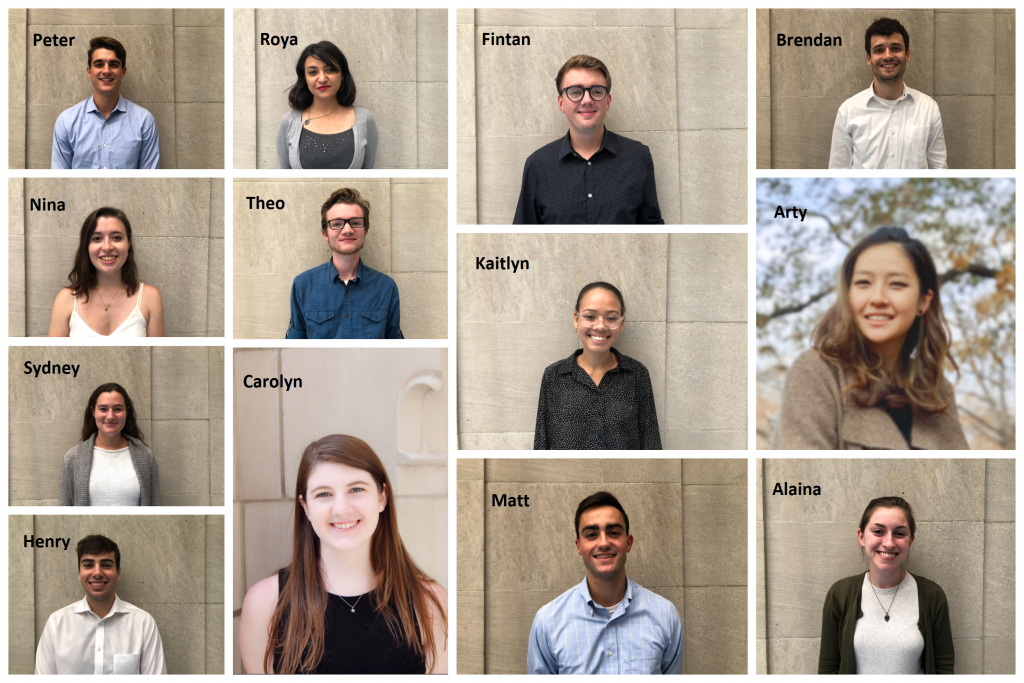 Roya Aghaeifar is currently pursuing her Master's degree in Economics from Temple University, graduating in August 2019.
Arty Altanzaya attends Drexel University and is majoring in Global Studies, with a concentration in Global Business, Economics and Development. She has been a Drexel co-op assisting the Business Development and Marketing team for the past 5 months.
Carolyn Asher attends Boston College and is majoring in History and Political Science.
Alaina Barca is studying Mathematical Economics at Drexel University. She has been a Drexel co-op with ESI for the past 5 months.
Peter Baroff attends Haverford College, majoring in Political Science.
Brendon Connor attends Trinity College Dublin, majoring in Economics.
Henry Corkran is an Economics and International Relations major at New York University.
Matt DeCesare attends University of Pennsylvania and studies Behavioral Economics and Business Analytics.
Theo Herrin graduated from the College of William & Mary in May 2019, majoring in Economics with a minor in Music.
Sydney Lodge currently attends University of Pennsylvania studying Mathematical Economics.
Kaitlyn MacLennan graduated from Temple University in May 2019 with degrees in Economics and Spanish.
Nina Olney attends Drexel University, majoring in Economics and minoring in Environmental Studies and Sustainability in the Built Environment. She has been a Drexel co-op with ESI for the past 5 months.
Fintan O'Toole is an Economics major studying at the University of Pennsylvania.
What is a key takeaway from your experience?
Fintan: I believe the most interesting aspect of consulting is the expectation that you be an expert on an expansive variety of topics. At any given time, you can be working on projects in transportation, energy, public policy, or international enterprise and must be well-versed in all of them. This facet of the job keeps every week fresh and challenges you to constantly develop your skills.
Nina: I've learned the importance of data visualization and clearly communicating results to the client or reader. A part of my job at ESI has been helping with data analysis and collection, but an equally important part for the final product is communicating our results through graphs, tables, and charts. I hope to take this lesson into my work for classes and beyond as I present my ideas to peers, teachers, and co-workers.
Theo: The world of economics consulting is extremely interesting. I thoroughly enjoy the vast scope of projects I've been put on. Every week, I've had the chance to focus on something new that requires a different approach and a different area of expertise – it's real-world problem solving.
Kaitlyn: I gained valuable experience working with various software's, databases, and data visualization tools such as ESRI, Census Bureau data via OnTheMap, BLS data, R Coding, and others that can I carry into future endeavors.
What is your favorite project you worked on? What did you do specifically?
Alaina: My favorite project to work on was a market analysis for The Enterprise Center in Philadelphia. It was exciting to work with a client whose office and target community are located right outside my door as a student who resides in University City. I analyzed community characteristics, managed local development data, and created report narrative. It was interesting to draw connections between development, economic trends, and the communities in West Philadelphia.
Matt: I really enjoyed visualizing development data in Philadelphia. ESI collects data on real estate developments in the area. I used Tableau to show these developments on a map and analyze the different neighborhoods in Philly based on the attributes of projects in the area such as construction cost, primary use, and square footage.
Arty: It is difficult to choose, considering that everything I worked on I found to be extremely engaging! I think the current project I am tackling is one of the most interesting ones–which is to develop a strategic plan with our partners in China, ANBOUND. As part of the business development and marketing team, I am researching opportunities within the market, topics that are of public interest which overlay with ESI and ANBOUND's capabilities, and collaborative organizations who would be interested in these projects.
Carolyn: Education is an area I am passionate about, so I was happy to look into economic impact studies for several colleges and universities of all sizes and from all geographies. I learned the various tools that economists use to analyze institutions' fiscal, economic, and social impacts in their communities and states.
How would you describe ESI's office culture? What do you like most about it?
Roya: People are so nice and kind. You can easily go to a principal's office and talk to them. I also really enjoyed weekly yoga, company happy hours, and our monthly staff lunch. ESI has become my work family, and they have shown me that a healthy and happy office culture leads to staff doing a better job!
Peter: ESI has a positive and team-oriented office culture that emphasizes hard work and productivity. A big part of the office here is making use of each other's unique skillsets and experiences to more effectively produce quality reports for our clients. This atmosphere provides a great environment for interns as everyone at the firm is very responsive to questions and helpful with problems that we may encounter.
Brendan: Everyone has been very friendly and supportive of the interns. I liked that I got to meet everybody in the company in the short time I worked here.
What advice would you give to next year's interns?
Henry: Be ready to take on projects and tasks that might seem out of your ability or comfort zone. The moments you are challenged and unsure of yourself are the moments you grow. Tackling problems which you are inexperienced in solving is a valuable learning process.
Sydney: I would advise future interns to get to know each other! Try to get lunch together or even plan a happy hour. This group of 2019 summer interns has become very close–we are able to collaborate and share our workload amongst the group. I'm really thankful to have been able to share the summer with the other amazing interns here at ESI.
Lindsay Durkalec is a Business Development and Marketing Associate at ESI where she supports the Business Development team. In addition to assisting with proposals, Ms. Durkalec is responsible for enhancing ESI's brand and work through traditional and social media, content development for the web, and managing the ESI blog, Present Value.