Under the ideal setting of PHS's Philadelphia Flower Show, Greater Philadelphia Gardens (GPG) announced on March 15, 2017 its new study on the collective economic impacts of the region's public gardens, arboreta, and historic landscapes. The Greater Philadelphia region has long been regarded as "America's Garden Capital", with over 30 public gardens within a 30-mile radius and a rich history of horticulture. With the numbers in-hand, we now know the benefits to the region are more than the average "garden variety".
GPG, a consortium of Philadelphia-area public gardens covering an eleven-county area, commissioned Econsult Solutions to survey its member organizations and measure the impacts they have on the regional economy. As reported, GPG consortium gardens draw an estimated 2.5 million visitors annually, which is on par with the region's most popular attractions including the Liberty Bell at 2.2 million visitors, and Valley Forge National Park at 2.1 million visitors. Many of these visitors extend their stay, spending locally on food and accommodations as well. Over the last three years alone, GPG members have spent approximately $116 million on construction projects enhancing their gardens. Furthermore, the study found that these public gardens have supported more than 1,500 jobs – totaling $79 million in earnings, generating $3.6 million per year in business, sales, and income tax revenue. The cumulative impact on the region amounts to $256 million a year.
"We have long felt that gardens brought significant economic benefits to the area," said Matt Rader, president of the Pennsylvania Horticultural Society. "In addition to inspiring and relaxing us, there's a real economic role for our region's public gardens. This study shows how public gardens create jobs, support local businesses, influence property values, and contribute to overall economic development. Their value cannot be underestimated."
"Each year, public gardens continue to grow their visitation and audience base," said Casey Sclar, Executive Director of the American Public Gardens Association, representing more than 400 public gardens across the country. "Greater Philadelphia Gardens is an ideal model of a gardens collaborative, and the findings of this study will help other gardens to demonstrate their value."
To read the entire report, click here.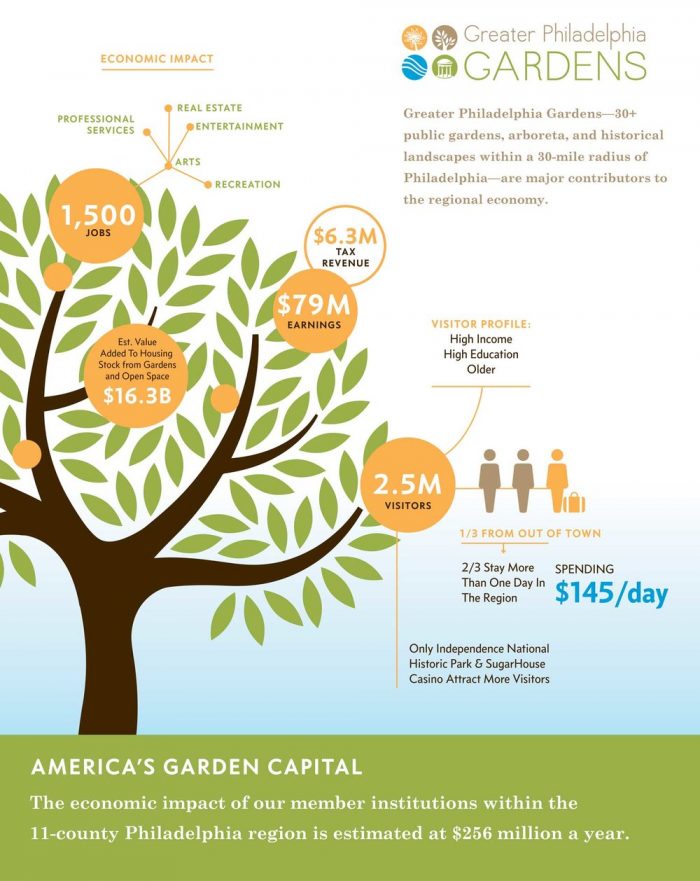 Check out the media coverage:
From Longwood to Winterthur, Philly area gardens drive $256M in economic impact – Philly.com
Inquirer Editorial: Flower Show and other public gardens also sprout jobs – Philly.com