Continuing our research  in developing a climate resilience index, we have further refined our methodology to gauge nine cities on their sustainability and progress in adopting eco-friendly practices. This index is comprised of 30 metrics across four categories (Environment, Economy, Infrastructure, and Social) and pulls from a wide range of data to evaluate each city's performance. Metrics include cumulative values, like total emissions, and category-specific indicators. To ensure an impartial assessment, metrics such as total emissions were standardized based on city population, leveling the playing field for cities of different sizes.
The 30 metrics offer a holistic view of a city's performance in various areas. The Environment category, comprising six metrics, focuses on ecological factors, while the Economy category assesses economic growth and development through eleven metrics. The Infrastructure and Social categories consist of five and eight metrics, respectively, examining city planning, transportation, and social well-being. Despite varying amounts of metrics, each category is assigned an equal weight in the index which acknowledges the interconnectedness of sustainable cities' environmental, economic, infrastructural, and social aspects.
Data for this index was sourced from governmental agencies at various levels, including federal, county, and city-level institutions. Valuable economic data came from financial reports, while additional data came from non-governmental organizations, enhancing the depth and accuracy of the index.
City case studies drew data from multiple sources, such as news publications and city government institutions, ensuring a comprehensive understanding of each city's sustainability efforts. Combining objective data from official sources with insights from journalistic coverage and localized administrative data provided a more nuanced perspective.
Though the city sustainability index is a valuable tool for assessing and comparing cities, it has limitations. Due to data unavailability, proxy variables were used, potentially affecting the accuracy of specific metrics. Some variables may have become outdated during development, leading to inaccuracies in the evaluation process.
Time and resource constraints limited the inclusion of more variables, hindering a more comprehensive assessment. Additionally, the diverse environments of the cities analyzed may have introduced bias in the index metrics, necessitating a cautious interpretation of the results.
Despite these challenges, the city sustainability index was designed for replicability and adaptability. The structure allows for periodic updates and the addition of more cities in the future, facilitating the measurement of progress over time. Relying primarily on data from reputable government organizations ensures data availability for future evaluations.
A standardized ranking system further enhances flexibility, enabling seamless integration of new cities without disrupting the existing scoring range. This consistency extends the index's utility to a broader range of locales, encouraging continuous efforts toward city sustainability worldwide.
In tandem with the development of the index, we have also been working on distinct case studies highlighting best practices and areas for improvement in all nine cities. These include the work done by various city governments to improve resilience measures, such as Berkeley's Community Resilience Centers. 
In the initial findings, the scores across the cities displayed a considerable variance, suggesting diverse performances in the assessed factors. Interestingly, no distinct group of cities, whether categorized by size or growth rate, stood out with notably higher scores than others. However, a discernible trend emerged, indicating that coastal cities tended to score higher compared to inland cities. This observation may hold valuable implications for city policymaking and the adoption of sustainability practices. As we continue to delve deeper into the trends and nuances of the index, we hope to uncover meaningful insights that can inform strategic decisions and contribute to the promotion of sustainable and progressive urban development.
About ESI Center for the Future of Cities
ESI Center for the Future of Cities brings together experts in urban economics, policy, and strategy to craft new evidence-based research on the most important issues facing cities around the world, and to provide consulting services for public and private sector organizations working in urban settings. As the firm's thought leadership arm, it brings together ESI's expertise in urban economics to address the most prominent issues facing cities around the world. City leaders need a blueprint for building safer, more sustainable, and resilient 21st Century cities.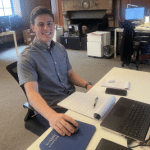 Patrick Darcy, Fellow | [email protected]
Patrick Darcy is a fellow supporting ESI's thought leadership initiative, ESI Center for the Future of Cities. He is a recent graduate from Temple University where he graduated with a BBA in Economics, and is currently working towards his MS in Financial Analysis with an anticipated graduation date of 2024.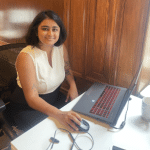 Samriddhi Khare, Fellow | [email protected] 
Samriddhi Khare is a fellow supporting ESI's thought leadership initiative, ESI Center for the Future of Cities. She currently attends the University of Pennsylvania and will be graduating in 2024. Samriddhi will receive her Master's in City Planning with concentrations in smart cities and technology.