ESI and ANBOUND formed a strategic partnership in 2019, and are committed to providing research and consulting services to clients, expanding their horizons through in-depth international collaboration, and jointly proposing public policy recommendations and solutions for promoting high-quality economic development. ANBOUND is a multinational independent think tank based in China and Malaysia, which specializes in public policy research covering geopolitics and international relations, urban and social development, industrial issues, and macro-economy.
Our International Expertise
ESI's team of experts consists of Dr. Richard Voith, Founding Principal, Sidney Wong, Senior Advisor, Joyce Liu, Senior Analyst. Our team has outstanding skills and extensive knowledge to examine a wide range of foreign-related issues in the fields of city planning, real estate, higher education, innovation, transportation planning, and more.
Dick Voith and Jing Liu from ESI and ANBOUND teamed up with Pelli Clarke Pelli Architects, SWA Group, and Arup and to participate in and won the 3rd place at the Architectural Design Competition of The Future Science and Technology City of Chengdu Hi-Tech Industrial Development Zone organized by The Reform and Planning Administration Bureau of Chengdu Hi-Tech Industrial Development Zone and Chengdu Hi-tech Investment Group Co., Ltd in 2020 and 2021. The competition received more than 100 participants from all over the world. PCPA&ESI team was shortlisted with four other world renowned design firms - MAD, MVRDV, gmp and OMA in the final design phase, and won the third place in the final round of competition.

ESI's role in the team included developing innovation ecosystem concept, economic development strategies, and smart city strategies which further guided the land use plan and the detailed urban design of the entire area. ESI laid out the design concept that open, welcoming, and sustainable environments within smart, interconnected, mixed use urban forms are the future of successful innovation ecosystems. ESI and ANBOUND also conducted a thorough fiscal impact analysis and economic impact analysis for the project after the design was completed.
ESI partnered with ANBOUND to conduct study on the future development trend of Chinese cities for Glodon in China.

ESI and ANBOUND reviewed the literatures on the current status of Chinese urban development and classified the Chinese cities into three development models based on their phases of urbanization: spatial expansion, spatial steady-state, and spatial reduction. ESI also identified several key issues that Chinese cities are currently facing, and further proposed future development goals. ESI leveraged the past experiences from ESI ThoughtLab studies of the Smarter Cities 2025 and the Hyperconnected Cities.
The Latest News From ANBOUND
Against the backdrop of a slowdown in economic growth in many countries around the world, China's year-over-year GDP growth of 4.5% in the first quarter was a moderate economic achievement. Two factors shall be considered when analyzing China's economic situation and recovery trend in Q1 of this year. Firstly, macroeconomic data performance should be evaluated. Secondly, actual economic operation, including corporate performance, household income, and consumption status, should be analyzed to adjust macro data. Macro data stimulated by policies cannot completely conceal structural and imbalanced issues. The key to sustaining the economic growth is whether China can alter its economic system, particularly by restoring confidence among enterprises and residents during the recovery period.
At present, the bilateral relations between Singapore and China are enjoying their golden age. However, the durability of this cordial relationship is being challenged by geopolitical realities and shifting practical interests. Singapore is likely to leverage the inflow of Chinese capital to solidify its position as a financial hub and enhance cooperation with Western powers, to consolidate its geopolitical standing in Southeast Asia through external alliances. ANBOUND Research Assistant Zhou Chao discusses the possible long-term trend.
There has been a growing trend among countries and regions like India, Brazil, and ASEAN to "de-dollarize". It is likely more pronounced as the problems with the U.S. dollar continue to mount. While it may not be possible to replace the dollar in the short term, the effect of countries reducing their reliance on the dollar will be increasingly significant, eventually leading to a new monetary geopolitical pattern. The attempt that emerging markets, mainly the BRICS, establish an independent trading system, will pose a long-term threat to the dollar's status. This erosion may be gradual, but with many participants, it may snowball, in the words of Wei Hongxu, senior economist at ANBOUND.
ANBOUND Government Database
ANBOUND Government Database (access from www.anbound.org) is a textual database that uses text analytics and machine learning techniques to collect and keep track of China's public policy issues over time through all kinds of sources including traditional media, social media, books, and conferences since 27 years ago. ESI works collaboratively with ANBOUND on promoting ANBOUND Government database in the US. For free trial subscription and more information, please contact JoyceLiu@econsultsolutions.com or wangyi@anbound.com.
Open Source, Textual Data, Interdisciplinary Policy Informatics, and Advisory Communications -- ANBOUND Policy Analysis Database makes cognition into practices and identifies public policy concerns and complex challenges, which further are leveraged to address issues, and develop governance solutions.
Subscribe to China Observation
China Observation provides an independent window into the Chinese marketplace and provides in-depth analysis of the rapidly evolving Chinese economy and the implications of that evolution for the US and the world.
Produced by ANBOUND's thought leaders, the new publication is based on an information tracking research model, a major contrast to other think-tanks' research paradigms. ANBOUND experts continuously track the policy environment and offer strategic insights on long-term trends which creates a deep interest within media, institutions, and experts. The publication covers topics such as economic development, public policy, geopolitical issues, free trade and globalization, foreign investment, financial market, high-technology, environmental protection, and urban development.
Recent articles from ESI and ANBOUND
Among many other effects, COVID has scrambled the enrollment and experience of non-domestic students at U.S. universities. Two-plus years into the pandemic, we continue to monitor the consequence of lockdowns, […]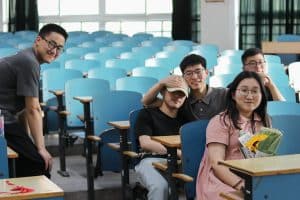 What are some major points to consider, or questions that we should be asking to gauge how well we as universities and institutions here in the United States work with […]
An ESI-ANBOUND collaborative article based on an internal survey that asked opinions for future cities What does life in urban settings look like going forward? Living through a series of […]