ESI is proud to announce that 4 of our clients have been awarded Rebuilding American Infrastructure with Sustainability and Equity (RAISE) grant funding from the U.S. Department of Transportation during the 2023 round. We wish to congratulate them and all RAISE discretionary grant recipients! Click here for the full list of awarded projects.
Link Trail, Segments 1A-2, 1A-3, and 3
The construction work includes approximately 3.8 miles of a new shared-use path. The project will also include the construction of three pedestrian bridges, retrofitting one existing roadway bridge, crosswalk enhancements crosswalks, and on-street protected bicycle lanes. The new multi-use trail segments will improve the safety of non-motorized users by adding dedicated active transportation facilities and contribute to the completion of a 34-mile paved trail that connects counties across the region and travelers to downtown amenities that will enhance the user experience and attract visitors and tourists.
RAISE Funding: $19,000,000
Awarded to: Camden County, NJ
North Philadelphia School Zones Traffic Safety Project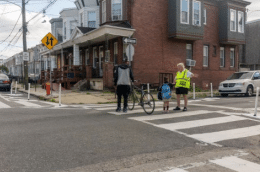 This project will construct multimodal, accessibility, mobility improvements around six schools and high injury corridors. The work includes raised crosswalks at Neighborhood Slow Zone gateways, redesigned Slow Zone advisory signage for drivers, curb extensions at key community locations and hazardous crossings, installation of continental crosswalks, ADA ramps, pavement resurfacing, and traffic signals and communications upgrades.
RAISE Funding: $25,000,000
Awarded to: City of Philadelphia
Newport River Trail
The project will fund the construction of an approximate 2-mile, ADA-accessible, shared-use path connection between the Town of Newport and the Jack A. Markell Trail in Wilmington. the new path will improve safety by creating a safe connection that separates bicyclists and pedestrians from high traffic volumes and vehicles speeds. The project also has future plans to extend the connection westward to Newark.
RAISE Funding: $23,000,000
Awarded to: New Castle County, DE
Southwest Philadelphia Trolley Modernization and Complete Streets Project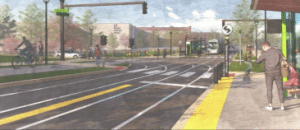 The project will implement trolley modernization and complete streets improvements on approximately 3.85 miles of streets. It focuses on reducing crashes where roadways and trolleys meet and multiple fatalities have occurred in recent years. Lighting will also be installed as a deterrence from criminal activity in hopes to further enhance safety. State of good repair will be addressed by completely renovating aging streets to addressing system vulnerabilities.
RAISE Funding: $25,000,000
Awarded to: SEPTA
About RAISE
The Rebuilding American Infrastructure with Sustainability and Equity, or RAISE Discretionary Discretionary Grant program, provides a unique opportunity for the DOT to invest in road, rail, transit, and port projects that promise to achieve national objectives. Previously known as the Better Utilizing Investments to Leverage Development (BUILD) and Transportation Investment Generating Economic Recovery (TIGER) Discretionary Grants, Congress has dedicated nearly $12.1 billion for fourteen rounds of National Infrastructure Investments to fund projects that have a significant local or regional impact.
For more information on project eligibility or questions about the application process, contact us today.