During the weekend of April 27 to April 30, ESI both sponsored and attended the 
Lambda Alpha International's (LAI) Philadelphia Chapter
 Spring's Land Economics Weekend (LEW) in Philadelphia, which hosted members from various LAI Chapters. Our President,
Stephen Mullin
, is an active member in LAI Philadelphia's Board of Directors and helped organize the event. Its members toured various new developments that will change the city's skyline and many are currently ESI clients including the Comcast Technology Center, the Cira Center Complex, Pennovation, Market East, and The Navy Yard.
During the awards ceremony Lambda Alpha presented Jerry Sweeney, President & CEO, Brandywine Realty Trust with the Skyline Award for the Cira Center. Tony Forte, LAI Philadelphia Chapter President and LEW Committee Chair, acknowledged Jerry and Brandywine Realty Trust for the Cira center and its ability to connect professions to share knowledge and advance best practices. After accepting the award Jerry explained the motivation behind the building and the intentions for the tower to be a place people would recognize. Jerry also described his approach to development, which is thinking of a building as a way of connecting communities.
On Friday, the group toured the Schuylkill River Banks presented by the Schuylkill River Development Corporation (SRDC). SRDC is continuing the already immaculate transformation of the 8-mile tidal Schuylkill corridor by driving improvements in recreation, transportation, public health, and community and economic development. The recently opened boardwalk allows for various types of riverfront recreation including running, cycling, yoga, fishing, and many others. Connected to the trail is a dog park, playground area, and garden which is occupied at any given time of the day.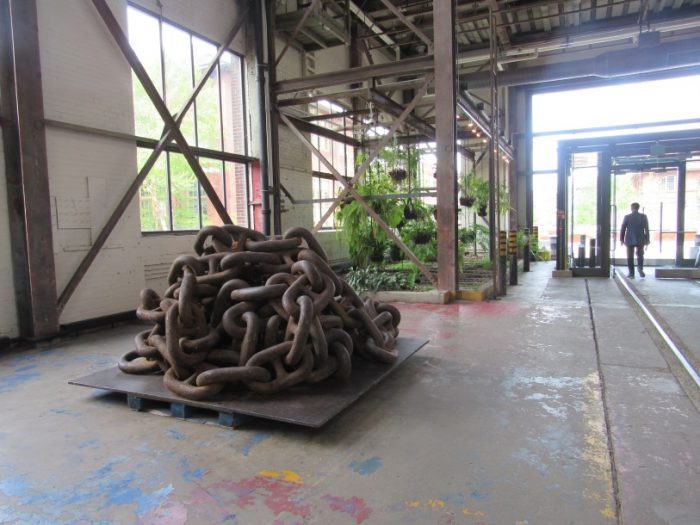 The group also made their way to The Navy Yard, a 1,200 acre urban development serving as home to over 150 companies such as URBN, GlaxoSmithKline, and Revzilla.