For this week's Present Value post, we have assembled a list of excellent events happening in and around the city to celebrate Independence Day, as well as interesting articles, and the latest happenings taking place at ESI. Happy Fourth of July from all of us!
Events and Activities Around Philly
The Summer UnWINEd at Shady Brook Farm (May 5th – Sept. 2nd)
Interested in unwinding with live music, craft beer, specialty cocktails, wine, and food? Shady Brook Farm is hosting weekly events at their Rose Bank Winery. Open every Friday night (weather permitting) from May 5 to Sept. 1 and two special Saturdays with fireworks (July 1 and Sept. 2).
Wawa Welcome America (June 19th – July 4th)
Enjoy a free concert featuring several different performances from well-known popstars on the Benjamin Franklin Parkway. This event also includes a firework display across the Philadelphia Museum of Art in celebration of Juneteenth and July 4th!
Free Museum Day (June 19th – July 4th)
Some of the best and well-known museums and attractions are offering free admissions during the two-week celebration of Wawa's Welcome America! This includes Eastern State Penitentiary, the Mutter Museum, Betsy Ross House, National Constitution Center, The Barnes Foundation, and more.
Phillies Fireworks Show at Citizens Bank Park (June 30th & July 14th)
Calling all Phillies fans! On June 30th the Phillies take on the Nationals, followed by a post-game firework show at Citizens Bank Park! This isn't the only time you can experience it either. July 14th after the game against the Padres, there will be another post-game firework show!
Avenue of the Arts Block Party (July 1st)
In the mood for entertainment? Check out live performances and workshops while enjoying food trucks during the Avenue of the Arts Block Party! This event includes preview performances, giveaways, and more!
Perishing's Own Concert and Waterfront Fireworks at Penn's Landing (July 1st)
Fireworks, music, and a view? The United States Army band "Pershing's Own" is coming to Philadelphia and will be performing a star-spangled concert, topped off with fireworks displayed across the Delaware River.
Party on the Pier at Rivers Casino (July 2nd)
Hit the jackpot and join in on the 4th of July celebrations at Rivers Casino. Enjoy games, family fun, and performances on July 2nd, followed by a firework show over the river.
Music on Independence Featuring Vanessa Williams (July 3rd)
Celebrate freedom with Vanessa Williams and a night of magical performances. Her critically acclaimed work in film, television, recordings, and the Broadway stage has been recognized by every major industry award affiliate including 4 Emmy nominations, 11 GRAMMY nominations, a Tony nomination, 3 SAG award nominations, 7 NAACP Image Awards and 3 Satellite Awards.
Salute to America Independence Day Parade
What's better way to celebrate the Independence Day than with a parade? Check out the official Fourth of July Parade with patriotic floats, historic figures, performances from Miss America 2023, and more!
Webinar Series: Equity and Inclusion Across the United States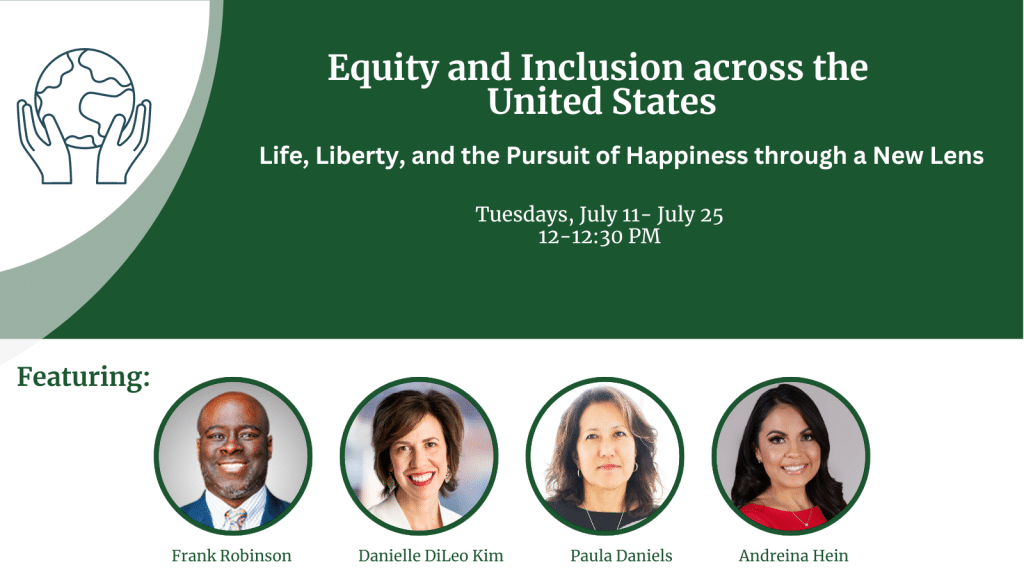 In July, ESI will present a series of weekly webinars titled Life, Liberty, and the Pursuit of Happiness Through a New Lens: Equity and Inclusion Across the United States , moderated by Frank Robinson. Topics will include food systems, construction and development, and tourism with industry leaders.
Register here.
The Latest from Present Value
Understanding the Economic Impact of Film-Induced Tourism
By Frank Robinson, Vice President
Better Understanding NJEDA's Aspire Program
By Stephen Madsen, Associate Director
10 for 10: Economic Development
By Gina Lavery, Senior Vice President & Principal
In the News
New Music Festival in Atlantic City, Lets Fans Earn Money by Promoting it Online
By Maggie Mancini, Philly Voice
Philly's 1st Electric Horseless Carriage Debuts This Summer
By Erryn Howard, Secret Philadelphia
Free Admission to N.J. State Parks Could be Coming Again This Summer
By Katie Kausch, NJ.com
Demi Lovato, Ludacris to Headline 2023 Wawa Welcome America July 4th Concert
By Dan Stamm, NBC Philadelphia
2023 Camden County Rocks Summer Concert Series Schedule Released
By Danielle Ellis, CBS News Philadelphia
Septa Welcomes 21 New Police Officers to the Force
By 6abc Digital Staff, 6abc
Norah Serverson | [email protected]
Norah Serverson is a Marketing Assistant at Econsult Solutions Inc. (ESI) supporting the Business Development and Marketing Department. Ms. Serverson is currently a student at La Salle University studying Marketing and Communication.