Econsult Solutions, Inc. (ESI), The Intersect, and Cameron Professional Services Group, provided an evaluation of the Taking Care of Business (TCB) Commercial Corridor Cleaning Program, on behalf of the City of Philadelphia Department of Commerce. The effort led by ESI included constructing an approach for measuring the efficacy of TCB in achieving its goals, performing an initial synthesis of existing metrics, and additional guidance on the data collection and synthesis for ongoing evaluation, while evaluating the extent to which progress is being made towards TBC's goals.
TCB has four main goals:
Maintain clean commercial districts in Philadelphia neighborhoods.
Promote the economic success of neighborhood businesses by creating an inviting environment for shoppers.
Create work opportunities for Philadelphians.
Grow the capacity of local small businesses and organizations that provide cleaning service.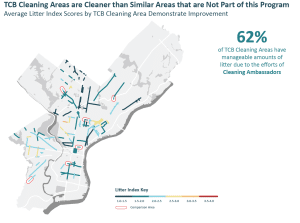 The ESI-led team worked closely to evaluate TCB's goals and the progress made toward achieving them. This included a litter index of neighborhoods showing conditions before and after program implementation, across time and geography.
In examining the employment goals of the program, ESI found:
There were 200 cleaning ambassadors employed with paid employment, job training, and can advance their earning potential and 142 Cleaning Ambassadors obtained the widely recognized OSHA-10 workplace safety credential.
TCB enabled Philadelphia-based, for-profit, minority-owned cleaning companies to grow their businesses, with City contracts among the four companies rising from $221,000 in 2020 to $1.74 million in 2021.
In a survey conducted about economic vitality, 91% of shoppers would visit commercial corridors more often if they were kept clean, while 88% of business owners said it is effective to keep commercial corridors clean.
Overall, this evaluation demonstrated how a public investment can help increase the capacity of small, locally-owned, diverse private cleaning firms to perform work that benefits communities while expanding employment opportunities that improve lives, and have a positive impact on the economies of neighborhood business districts.