Last year, Econsult Solutions' thought leadership team, ESI ThoughtLab produced Smarter Cities 2025, a global benchmarking study which assessed various smart city initiatives to better understand how governments, citizens, and businesses were embracing new digital technologies.
Currently, our team is well under way with the 2019 follow-up study, Building a Hyperconnected City. This year's research dives deeper, providing insights into specific business models, use cases, performance metrics, and other hard-to-access data on cities.
Below is a list of cities currently participating in our program. All cities that participate will receive a free, comprehensive database showing how their smart investments, plans, and outcomes compare to their peers.
So, what exactly is a hyperconnected city?
A 'hyperconnected city' is one that leverages new digital technologies to transform and interconnect key areas of an urban ecosystem in order to unlock the greatest potential economic and social value for its citizens.
Hyperconnected cities are using new technologies to provide the same services they have always provided for their citizens – however, now these solutions are becoming smarter, cleaner, and faster. Whether the value is captured in reduced waiting times for public transportation or safer city streets based on smart mobility solutions, cities around the world are employing new technologies to improve the lives of their citizens.
Preliminary Findings
Over the past 4 months, our team of economists and thought leaders have surveyed government officials spanning 50 countries to better understand their use of data and analytics across various dimensions such as energy and water, public health and safety, and mobility and transportation. Using the results from the survey, we have created The Hyperconnected Cities Index. The index is comprised of four main pillars–The Connected Citizen, Technology, Data and Analytics, and Cybersecurity.
ESI ThoughtLab classified smart cities into three categories: leaders, advancers, and implementers, based on their progress in becoming truly hyperconnected.
Preliminary findings include:
Cities are employing new technologies for a variety of purposes. For example, of the cities investing in AI, 60% are using it to drive IT infrastructure initiatives, 43% for mobility, and 42% for physical and cybersecurity.
Smart city leaders aim to deliver myriad benefits to their stakeholders. These benefits include attracting and retaining businesses (39%), filling significant talent gaps (35%), allaying public health concerns (32%), mitigating security risks (29%), and addressing income inequality (28%).
Smart initiatives are paying off.For instance, 38% of cities deploying smart mobility solutions have bolstered customer satisfaction and 32% have increased productivity and delivery times for business. Likewise, 45% of cities deploying smart environmental and energy initiatives have improved citizen health, 44% have reduced pollution, and 43% have stabilized energy prices.
Smart programs provide tangible gains in terms of ROI.Except for predictive policing, all 62 smart city initiatives in our study showed positive investment returns. The highest returns came in the mobility and transportation area: curb management (4.5%), and congestion charging (4.3%).
If not managed effectively, these initiatives can expose urban areas to increased cyber risks.For cities in our survey, the total cost of cyber loss events over the last year averaged $3.4 million, with 10% suffering losses between $10m and $20m.
Over half of the cities said that they were not well prepared for cyberattacks.The biggest vulnerabilities cited were financial and payment systems (54%), IT infrastructure and telecoms (51%), and mobility and transportation (40%). To cope with rising cyber risks, 82% of cities plan to increase their cybersecurity budgets next year, 39% by more than 10%.
Using these pillars, our thought leadership team has created a preliminary ranking of the 100 participating cities. Preliminary results from our index show many typical contenders such as Singapore, London, and New York but also revealed a few, surprising newcomers, such as Zurich and Tel Aviv. However, it is important to note that these are only preliminary results—we are still collecting more data on these cities, and adding new geographies to the list of participants.
As our database expands, followers of the program will be able to compare cities and their solutions using our city benchmarking tool. The tool will not only allow users to understand how the world is becoming more hyperconnected, but it will also provide a more transparent view into what an individual city is doing across various dimensions. Users will also be able to compare cities against one another.
The full results of our study, including the final ranking of cities overall, and by specific areas of connectivity, will be publicly available in late November, after being officially unveiled at the Smart City Expo World Congress in Barcelona, Spain. We are excited to continue our research of smart cities and can't wait to share our findings with you!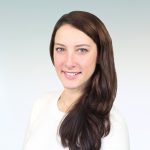 Rebecca DeJoseph is an Associate Director at ESI and a Senior Economist at ESI ThoughtLab. Prior to joining ESI, Rebecca worked as a senior economist in the Economic Analysis and Information branch of the Bureau of Labor Statistics.