If you watch the housing market in Philadelphia like we do, you are likely familiar with worries of when the current cycle will break. And in fact, the housing boom has been an omnipresent topic in real estate circles for at least the last few years. At this point in the cycle, that concern isn't Philadelphia-specific negativity but rather a countrywide anticipation of a slight economic downturn. So out of curiosity, we compared ESI's Philadelphia Housing Index to the national and northeast regional Housing Market Index (HMI) produced by the National Association of Home Builders. Their index is calibrated toward industry sentiment rather than sale prices, asking members to rate market conditions for new home sales and take into account the volume of potential buyers they see in the market. We created a 10-year comparison of our index with the HMI by calculating change since September 2007 in each. While the PHI is different in that it measures predicted home sale prices, you can see how the indices follow a similar trend although with slightly staggered timing.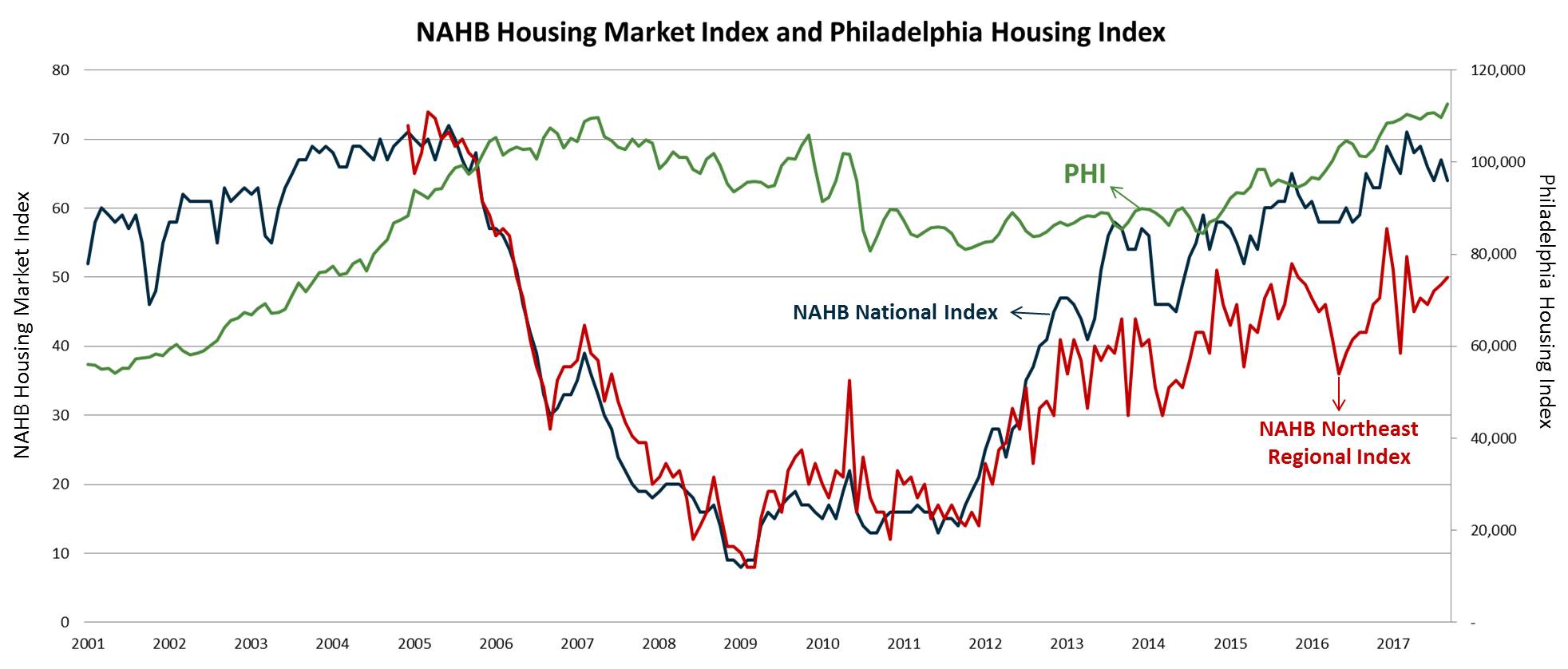 As I mentioned in last month's blog, the last Recession affected Philadelphia's housing market later than most of the rest of the country. And we're continuing to see the rebound in places like Brewerytown and Kensington where, as of the end of September, home sale prices are still peaking. Our monthly update of the PHI (showing average sale prices across the city using hedonic regression analysis) shows a slight dip from last month, but the total count of sales in the city in the past 12 months, 11,593, is more than 2,000 ahead of last year's 12-month total sales count. Citywide, the PHI is also up 11.5 percent year-over-year. If you agree with the premise that Philadelphia is perhaps a year or even two behind the country's average, the PHI suggests there's still some room for the average sale price to grow. That might be good news for sellers, but for so-called millennials like myself waiting for the bubble to deflate before diving into home ownership, we may be waiting a bit longer.
Gina Lavery is an Associate Director at Econsult Solutions. Gina focuses and leads projects on market research and analysis for the Greater Philadelphia area.
Jing Liu is a GIS Research Analyst at Econsult Solutions. She specializes in spatial analysis, quantitative analysis, and data visualization. Prior to joining ESI in 2016, Jing received her Master's in City Planning and Urban Spatial Analytics from the University of Pennsylvania