As part of our time serving as summer fellows for ESI Center for the Future of Cities, we have started developing a climate resilience index for nine cities across the United States. The research builds upon ESI's existing database of indices and metrics designed to evaluate and address the ever-changing nature of climate risks and the evolving needs of cities in their quest for climate resilience. 
Climate resilience refers to a city's capacity to recover from and withstand the impacts of climate-related changes on its environment and infrastructure. Whether a city faces chronic challenges or acute shocks, it should be able to adapt, bounce back, and continue functioning effectively to be considered resilient. Developing a climate resilience index is a complex process that involves meticulous research, data analysis, and the integration of various factors that contribute to a city's ability to adapt. 
In the past few weeks, we have identified nine cities across the U.S. to analyze as part of this research. The city selection was based on contrasting population sizes and growth rates, which are important yardsticks to measure climate readiness. By reconciling growth rates with population sizes, an interesting narrative emerges about small, medium, and large cities within each population trend. After careful consideration, the chosen cities were: 
 

 

Small 

Medium

 

Large 

Shrinking

 

Berkeley   

St Louis

 

Baltimore 

Stable

 

Flint 

Pittsburgh

 

Memphis 

Growing

 

Charleston 

Tampa

 

Seattle 

To proceed, we defined the scope of the index by identifying the specific climate hazards and vulnerabilities to be assessed, such as extreme weather events, polluted waters, or heat waves. Based on the defined scope, we selected a set of indicators to measure and assess climate resilience. Our indicators are classified into five categories: climate, environment, infrastructure, and social metrics. They encompass quantitative and qualitative factors, including environmental quality, healthcare accessibility, social cohesion, emergency response capabilities, and civic participation. 
In the coming months, we hope our preliminary findings will reveal variations in the climate resilience levels among the chosen cities. By examining cities with differing population sizes and growth rates, our research may highlight how these demographic factors influence climate readiness and resilience. Our aim is to provide city planners and policymakers with a reliable tool to assess vulnerability, identify gaps, and prioritize measures for building resilience and have utilized data-driven approaches and innovative methodologies to achieve this goal.  
About ESI Center for the Future of Cities
ESI Center for the Future of Cities brings together experts in urban economics, policy, and strategy to craft new evidence-based research on the most important issues facing cities around the world, and to provide consulting services for public and private sector organizations working in urban settings. As the firm's thought leadership arm, it brings together ESI's expertise in urban economics to address the most prominent issues facing cities around the world. City leaders need a blueprint for building safer, more sustainable, and resilient 21st Century cities.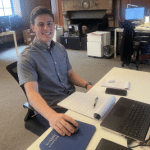 Patrick Darcy, Fellow | [email protected]
Patrick Darcy is a fellow supporting ESI's thought leadership initiative, ESI Center for the Future of Cities. He is a recent graduate from Temple University where he graduated with a BBA in Economics, and is currently working towards his MS in Financial Analysis with an anticipated graduation date of 2024.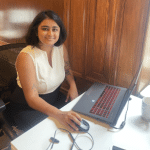 Samriddhi Khare, Fellow | [email protected] 
Samriddhi Khare is a fellow supporting ESI's thought leadership initiative, ESI Center for the Future of Cities. She currently attends the University of Pennsylvania and will be graduating in 2024. Samriddhi will receive her Master's in City Planning with concentrations in smart cities and technology.