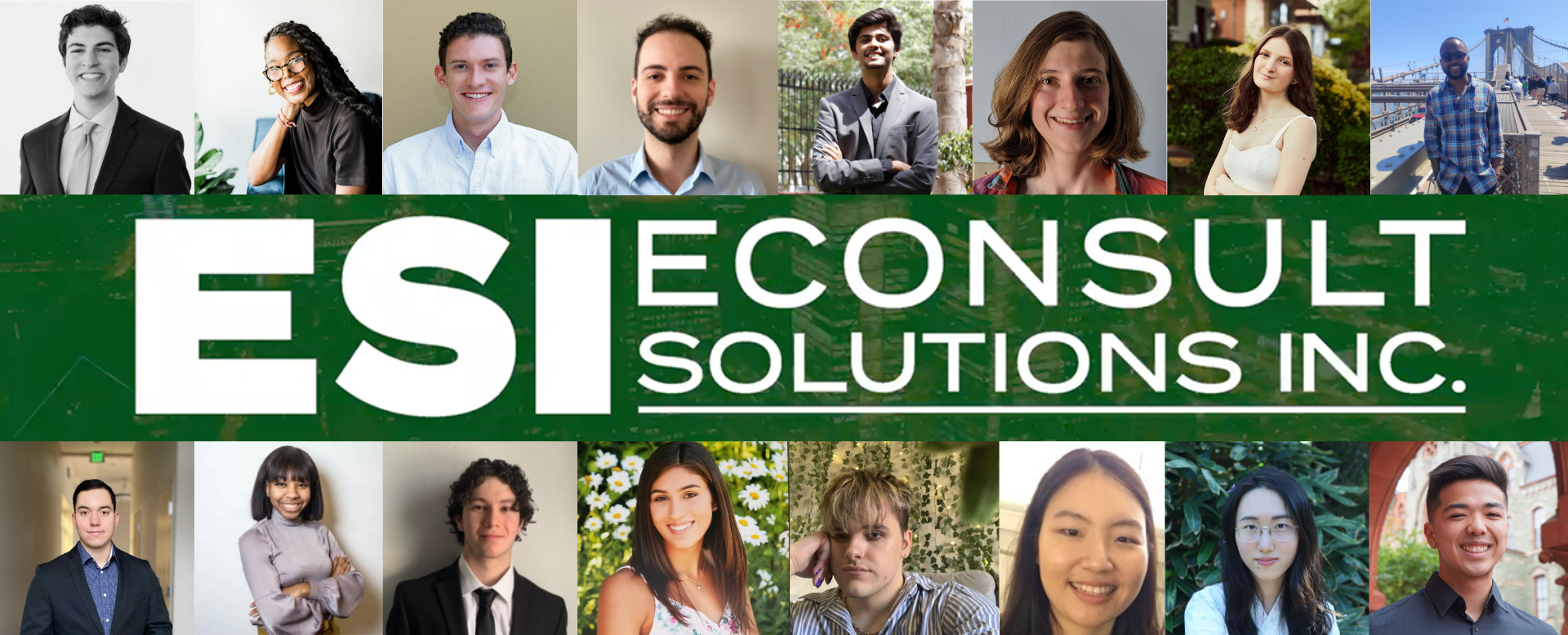 Meet the Interns
Econsult Solutions' workplace, an already diverse place of wonderful and intelligent people, is even larger than it might seem—with currently 20 additional faces, personalities, and skill sets to go around! Ranging from assisting with research tasks to aiding in the business development and marketing aspects, the interns here are ESI are hard at work on a great variety of assignments.  The current ESI interns include:
Elizabeth Dobbins (from Phoenix, AZ; enjoys reading and badminton)
Jacob Kayser (from Chicago, IL; enjoys pick-up soccer with friends)
Kendra Hills (from a small town in Louisiana; enjoys going to the park with her dog Roosevelt)
Matt Rivas (from Denver, CO; enjoys running – catch him on the Schuylkill River Trail)
Matthew Angelides (from Philadelphia, PA; enjoys music—plays in original and cover bands)
Trevor Marimbire (from Harare, Zimbabwe; enjoys playing soccer)
Devesh Chainani (from Jaipur, the pink city located in Rajasthan, India; enjoys working on setting up his business—a website to order Indian snacks, meals, etc.)
Zoe Schneider (from Brooklyn, NY; enjoys anything fun, from baking and watching movies to concerts, traveling, and trying new foods)
Sal Gullotta (from Philadelphia, PA; enjoys playing guitar, reading and writing, and tabletop games)
Kennedy Sampson (from Waldorf MD; enjoys hanging out with friends)
Jose Garza (from Monterrey, Mexico and moved to Dallas, TX; enjoys hanging out with family and friends, working out, sports, and listening to music)
Myron Joel Banez (from Vallejo, CA; enjoys sports and fitness)
Ran Wang (from Chongqing, China; enjoys reading and writing fanfictions)
Julia Hetzel (from a small town in Southern New Hampshire; enjoys crocheting and anything related to the outdoors)
Ry Zajdel (from Bucks County, PA; enjoys learning other languages – speaks English, Japanese and Spanish all at a conversational level)
Hyojin Lee (from Seoul, South Korea; enjoys going to art museums)
We wanted to sit down with these team members to get to know them better, their thoughts on ESI, and how working with the firm will help nurture their professional goals.
What's your favorite thing about Philadelphia?
Trevor Marimbire – "The diversity of the communities. I feel like Philly has so many sides to it, some I am yet to explore. So far, I have loved the diversity of the communities, especially the international communities, some of which are in South Philly."
Devesh Chainani – "I love the food and people in Philly. The food is amazing and I never run out of restaurants to try out. All the people I have met in Philly have been really friendly and supportive."
Myron Joel Banez – "The sense of neighborhood pride and depth of community organizing is extremely beautiful in Philly, especially in West Philly."
Ry Zajdel – "I really love Philly's street art. It seems that, no matter where I turn, there is a beautiful mural just waiting to be admired. I love how the murals each tell a story from the perspective of those who live or have lived in the city. It truly adds to the community aspect of living here, in my opinion, and makes me quite excited to explore the city as I always end up finding something new."
Why did you choose Econsult Solutions?
Jacob Kayser – "What excites me most about tackling multi-layered economic problems is the chance to meld research and data collection, analysis of non-traditional alternatives, and solutions grounded in both quantitative and qualitative information about equity and sustainability. I thought the ESI was a great place to explore these interests."
Kendra Hills – "I chose ESI because they consistently produce insightful and robust research that align with my personal goals as an urban planner and an analyst. I feel that my experiences and insight as a minority in this field are valued and heard at ESI."
Zoe Schneider – "I chose Econsult from the experiences I learned about in the interview process. Hearing about the variety of projects that Melissa, my current supervisor, and Xinyi worked on helped me figure out this was the place for me. My learning style is heavily project-based and I knew I would get a similar experience working here. There was mutual excitement from Melissa and Xinyi of bringing my past experiences to ESI and my anticipation for future growth.  I am very glad to have learned so much in my month here so far and can not wait to see what I continue working on in the near future."
What were your first impressions upon beginning work with the firm?
Elizabeth Dobbins – "The first time I entered the office, I was welcomed by Wendy and Lee. Many other employees from analysts to principals also went out of their way to say hello. I was happy to find a friendly and organized staff doing good work—and all in a beautiful historic floor of the Drexel Building!"
Julia Hetzel – "Working at Econsult has been a great experience. My first impression was noticing how open and friendly the workplace culture was here, which made starting a new role much less daunting. Even with much of the internship being virtual, people here go out of their way to be friendly and get to know each other, which makes the job a lot more fun!"
Hyojin Lee – "Great, I heard really nice things about Econsult, so I was excited to work with the firm."
What is your favorite part of your role so far?
Sal Gullotta – "The part I love most about my role is the content management aspect. Working on managing and editing our blog series (what you're reading now!) and social media accounts, assisting with proposal writing, and using some great software combines aspects of creativity, research, and organization skills that I really enjoy."
Jose Garza – "My favorite part of my role at ESI is to explore the different projects that fulfill the areas of expertise. I also enjoy finding ways to improve the marketing tools for the company."
Ran Wang – "My favorite part of my role is learning new data analysis tools such as SQL and performing spatial analysis."
How do you look forward to applying the skills and expertise you gain with the firm to your professional goals?
Matt Rivas – "Working at Econsult has taught me the value of strong data in creating informed policy decisions. I look forward to taking what I've learned here and helping people change systems in ways that foster equitable growth and respect for all."
Matt Angelides – "I aim to use the technical and critical thinking skills I learned here as a point of reference for my professional development. I also want to work for similar types of clients—local organizations that seek to make a tangible impact."
Kennedy Sampson – "I look forward to applying the skills I have learned at ESI by being a more organized and punctual team member. Also by remembering "the earlier the better" because in a team you never know what step of the process you are in and anyone else's workload. Turning a rough draft in early could help the team members who have to edit it because it is giving them more time and considering their bandwidth as well. I hope one day to come back at work for ESI because I appreciate the work they do for Philadelphia."
Salvatore Gullotta | [email protected]
Salvatore Gullotta is an intern at Econsult Solutions working in the Business Development and Marketing Department. He is currently a second-year student at Drexel University, and assists at ESI with proposals and content management (managing ESI Present Value [weekly blog] and social media).