Beijing, the political, cultural and economic capital of China, has been growing rapidly over the last several decades. Its population has skyrocketed from 13.6 million to 21.5 million since 2000. The megacity has been challenged by problems brought on by rapid growth and an overly dense population, which has outpaced infrastructure capacity. Air pollution and congestion are two of the most visible and well-known problems in Beijing. The excessive use and ownership of automobiles is a major cause of these problems. To combat this, the city government has implemented regulations on automobile usage, including a lottery to issue new vehicle registrations while also prohibiting the use of private vehicles on certain days based on plate numbers. However, these policies do not resolve Beijing's high demand for travel capabilities. Building an expansive, highly efficient public transit system has become a necessary strategy to solve transportation problems and accommodate growing travel needs.
The rapid development of the city's subway system has grown in tandem with the increasing population. In 2001, just two subway lines were in operation, with only 32 miles of track. The city's successful bid to host the 2008 Summer Olympic Games stimulated the development of a more advanced system. By the time of the 2008 games, seven lines were in operation, totaling 84 miles of track. After the Olympics, the subway system, continued to expand at an accelerated rate. Now, there are 22 lines and 377 miles of track serving millions of riders every day.
Evidence of the success of Beijing's subway expansion is indicated by how it has accommodated a rapidly increasing number of riders, while maintaining an affordable fare price (although heavily subsidized by the government). The average daily ridership has increased from 1 million in 2000 to almost 10 million in 2016; the ticket price ranges from 3 Yuan ($0.46) to 10 Yuan ($1.54) for a single ride. Despite the success in capturing ridership, the system still faces challenges from overwhelming population growth. While system managers are trying to provide service to newly-urbanized areas, the system becomes very bulky. The older lines serving the city center are extremely crowded during peak times. Sometimes riders cannot even board an arriving train. Long transferring distance is another criticism. Riders may need to walk 5 minutes through crowds to transfer to another line. But despite the criticism, Beijing's subway system continues to expand to meet the needs of a growing population. The Beijing Subway Construction Plan for 2021 aims to finish 27 lines, adding up to 620 miles of track in 3-4 years. By then, the subway is projected to serve 36 percent of all motor trips in Beijing.
A megacity can eventually grow to a scale where public transit is difficult and inefficient in providing access to every corner of the city, and thus only looking at transit solutions is insufficient to solve transportation problems. Beijing is fast becoming a city of that scale. Sprawl is eating up nearby farmland, connecting neighboring towns which have become districts of Beijing. In the meantime, the mono-centric urban structure that Beijing exercised for centuries (the Royal Palace as the center) will be abandoned. The most recent city master plan suggests shifting Beijing to a multi-centric city by moving its non-capital functions to satellite regions. For example, the city government of Beijing will relocate to the Tongzhou District, which is beyond the service area of the current subway system (while the national government remains in the center city). To build the multi-centric megacity, regional rail and high speed rail should be widely adopted to connect Beijing with its second degree centers and other major cities. The city's airport line is one such example of a regional rail. It has fewer stops – two joint with the current subway stations and the rest at airport terminals. However, to take this train, one needs to buy an additional ticket at the regional rail entrance, making it very inefficient for riders to move through the two closely related but disjointed systems. This also applies to the high speed rails. Beijing has high speed rail lines to major cities nearby, and other megacities like Shanghai and Guangzhou. But the systems are not integrated.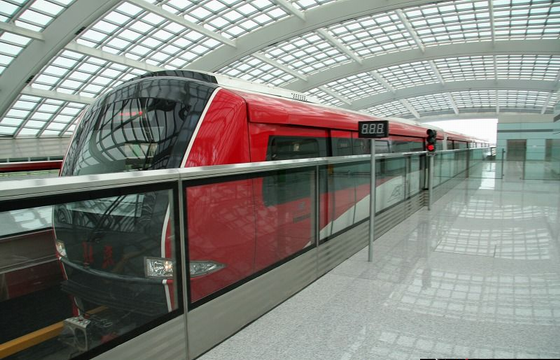 For megacities like Beijing, land available for development is scarce. Rail systems connected within and among neighboring cities are a necessity. The success of Beijing's subway system is that it has provided and continues to expand its infrastructure timely enough to match travel needs while ensuring affordability. In the long run, the emerging of a megacity will require not just a healthy subway system, but also an established and well-integrated regional rail system.
---
Peiyong Yu is a Research Analyst with Econsult Solutions. He has extensive experience with spatial and statistical analysis, transportation planning and economic analysis, and is proficient in ArcGIS, R-Studio, and Excel. Prior to joining Econsult Solutions, Peiyong worked at the Tongji Urban Planning and Design Institute in Shanghai, China as a transportation planner.