As 2017 closed, the normalized price of housing in Philadelphia was around $120,000. This represents the price for a house with average physical traits (age, square footage, lot size, location on the block) while subtracting out seasonal effects. It amounts to a 13% increase since December 2016. Comparatively, 2017 saw even greater average citywide gains than the prior year—in December 2016 we recorded a 10.9% increase over December 2015—with rising values distributed fairly evenly across Philadelphia neighborhoods.
Point Breeze and Kensington's Upward Trajectory
Unsurprising to anyone who watched the housing market, home prices in Point Breeze and Kensington showed remarkable growth through 2017. Houses in these neighborhoods have seen their PHI increase by nearly 175% and 150% respectively in the last 10 years. During this past year the trend continued, with the neighborhoods indices changing by approximately 40% and 20% respectively.
Fringe Neighborhoods Showing Rising Values
In newer news, neighborhoods to look out for in the coming years could be Hartranft, Fairhill, and Belmont. All of these neighborhoods saw a steady increase in their PHI in the last 12 months, yet they all also have neighborhood housing indices below the city average. Hartranft and Belmont have experienced the greatest percent increase in the PHI Index from 2016 to 2017. Hartranft's home prices have been significantly lower than the city average and essentially flat for the last decade, but have seen a skyward trajectory since the beginning of 2017, with an average increase of 56% from 2016 to 2017. In December 2017, the PHI of Hartranft was $116,000, almost as high as the city average. Each of these neighborhoods are on the edge of gentrified (or gentrifying) communities. Perhaps this is a sign that they are the next hot neighborhoods.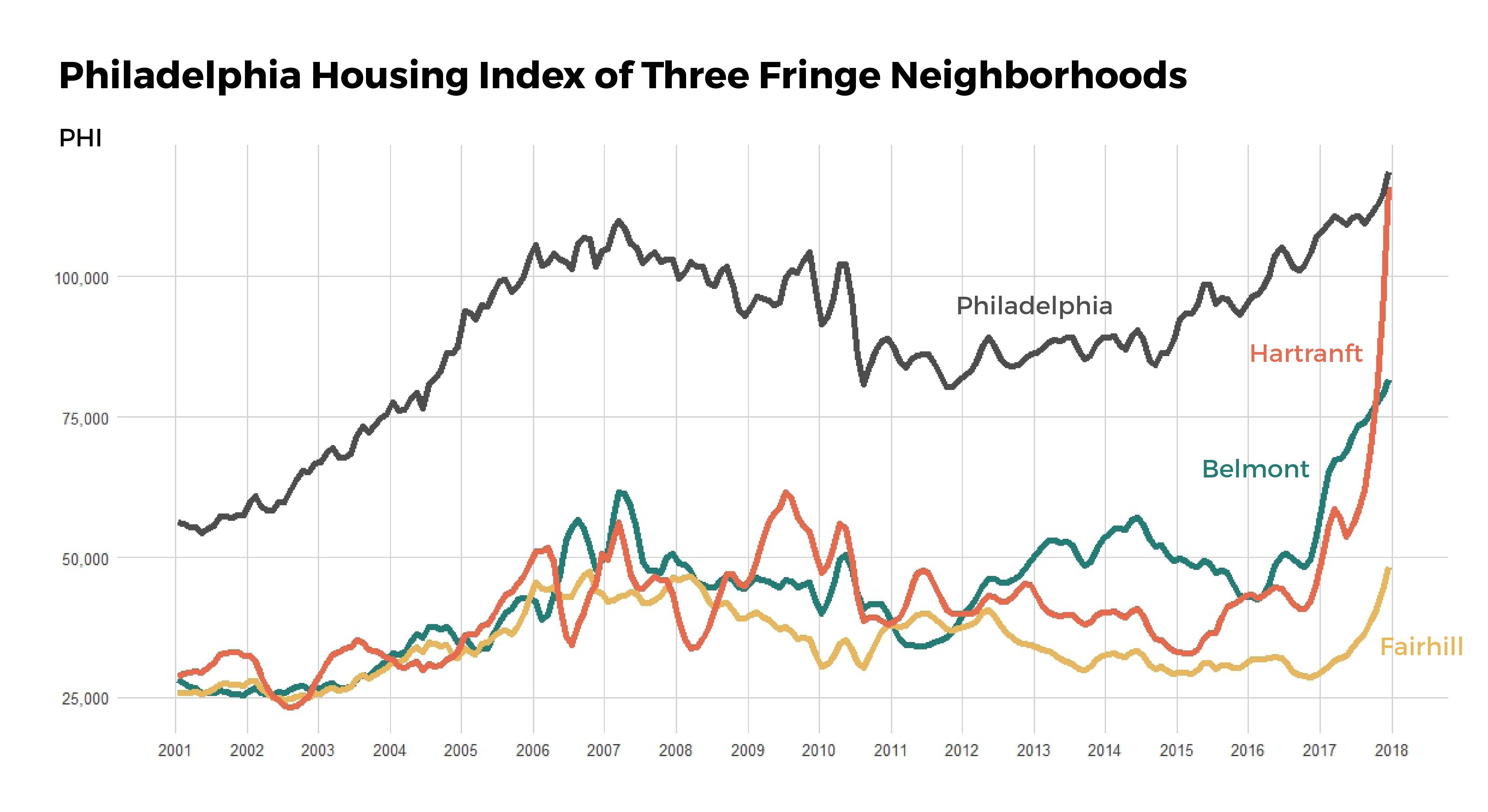 Booming Sales Volume, and not Just Where you Expect
Among the home sales transactions that we track (only arms length, residential, single-transaction sales), our data shows an uptick in single family sales across the City. 2017's annual sales volume was around 1,450, compared with 2016's average of 1,230, representing an almost 18% increase in the total sales recorded across Philadelphia. Point Breeze remains a top neighborhood in terms of number of sales, with nearly 700 single family home transactions reported throughout 2017. That's an increase of 17.6% compared to 2016. Paired with the rising values in this neighborhood, it's not a surprise that it's on everyone's watch list.   The other area seeing notable sales activity is the Lower Northeast. Neighborhoods like Mayfair and Tacony—dense with owner-occupied rowhomes— perennially record a high volume of home sales; and 2017 showed even more activity than usual. Mayfair closed the year with nearly 840 sales and Tacony with 540. When we compare the sales activity in those neighborhoods with 2016, that's a 30% increase. Over that same time period, their price indices did increase slightly, but they did not see the soaring prices of Point Breeze, Kensington or Brewerytown. What's to come for 2018? We'll be carefully watching what happens in those neighborhoods next to those gentrifying areas to see if their upward trend continues.

Gina Lavery is an Associate Director at Econsult Solutions. Gina focuses and leads projects on market research and analysis for the Greater Philadelphia area.
Jing Liu is a GIS Research Analyst at Econsult Solutions. She specializes in spatial analysis, quantitative analysis, and data visualization. Prior to joining ESI in 2016, Jing received her Master's in City Planning and Urban Spatial Analytics from the University of Pennsylvania.