The first edition of the Step-by-Step series demonstrated how ESI uses R for data manipulation and graphing. This step in the series will show you one for economic analyses and forecasts. ESRI Business Analyst is an extremely powerful tool that allows us to gather data on geographical areas such as demographics, lifestyle choices and consumer expenditures. To demonstrate the usefulness of ESRI Business Analyst, I ran a few reports on one of Philadelphia's most renowned neighborhoods.
As you travel down Route 30 in Philadelphia, you enter the historic Main Line. The Main Line has a legacy of economic success and country estates that (spill down a former Philadelphia railroad). The architectural diversity along Route 30 tells the story of entrepreneurs and movers and shakers of Philadelphia who moved to the Main Line in the early 20th century as a retreat from the busy city. This neighborhood provides the perfect case for us to see the flexibility and instrumental capacities of ESRI Business Analyst.
When we open up the program, we are given a map where we can hone in on designated areas for research. ESRI Business Analyst presents three ways to choose an area. One way is to click a location and draw a radius around it. Because the Main Line sprawls linearly a circular radius would limit the scope of our research. The second would be to select by geography, such as using zip codes or counties. This could be an effective way of mapping the Main Line, but because the boundaries of the neighborhood are so ambiguous, it may include areas that are not of interest. The third, and most versatile of options, is to draw a polygon around the area that we want to study. By delineating the area according to our own parameters, we can run reports that strictly survey non-designated areas and neighborhoods such as the Main Line.
Although the Main Line is large, a significant portion of this is made up of non-residential land such as universities, parks, and golf clubs. For this reason, we are going to focus on Route 30 as the center line for our polygon. Route 30 is the arterial road that unites the neighborhood and it hosts a lot of business in the neighborhood. We'll start our analysis by drawing a polygon encompassing Route 30 and the areas that immediately surround it, beginning after City Ave and ending at Route 202.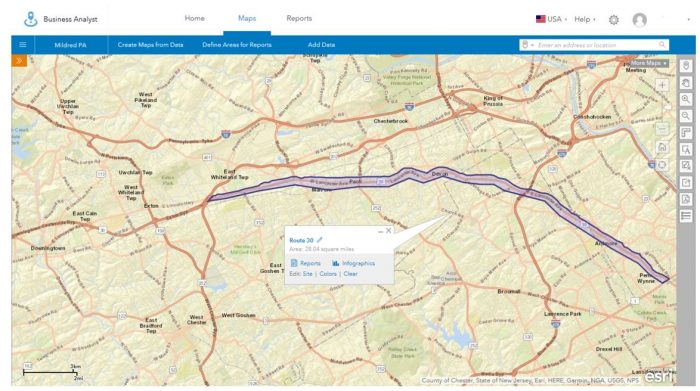 Now that we've drawn our polygon, we can run economic and demographic reports. Let's pretend that we have a client who is interested in opening up a locally sourced grocery store on Route 30. We would start by collecting information on the demographics of the area to better understand the feasibility of this large investment.
We ran two reports on this area:
The first report is the Demographic and Income Comparison Profile, which reveals that the median household income in 2016 is $79,739 and the average household income is $117,799. This report also gives us a 5-year forecast. By 2021, the median household income in our mapped area is expected grow by 2.48%.
The second report is a Household Budget Expenditures report that reveals households spend roughly 11.9% of their income on food, or an average annual expenditure of $11,861 per capita. ESRI also provides the broader demographic information in a nice info graphic.
Now that we have some demographic data for our group, we can begin to think about the potential market for our area. This is where the Tapestry Segmentation Area Profile is useful. This report prepares a summary of lifestyles and their preferences in our selected area.
ESRI shows us how the lifestyle demographics of our selected neighborhood stacks up compared to the entire U.S. As we can see, almost 27% of the neighborhood is considered "Urban Chic" compared to only 1.3% of the U.S population. ESRI defines this lifestyle as "professionals that live a sophisticated, exclusive lifestyle…busy, well-connected and well-educated consumers—avid readers and moviegoers, environmentally active, and financially stable."

Following that group is "Emerald City," who ESRI defines as "well educated and well employed … highly connected, using the Internet for entertainment and making environmentally friendly purchases … embrace the 'foodie' culture and enjoy cooking adventurous meals using local and organic food." We can now see that 47% of the market in this area consists of well-educated and environmentally conscious foodies, which is pertinent information for our entrepreneur.
At this point, the data is looking like our business could be successful when looking at only the demographics. The area is affluent and appears generally interested in the product that our client is looking to provide. However, without data on supply of similar entities, we still do not have enough information to determine the feasibility of this investment. The next data point we extract from ESRI is called a Leakage/Surplus Factor which can inform a general level of supply in the area.
ESRI will use the supply of retailers in our mapped area and the demand for the goods they produce to deliver us either a positive (leakage) factor or a negative (surplus) factor. This figure gives us an indication of which industries are over and under represented in an area. The Leakage/Surplus factor ranges from -100, which means that there is exceedingly low demand and a high surplus of supply, to +100, which means that there is high demand for a scarce good or service that people are buying those goods or services.
Here is a snapshot of a Retail MarketPlace Profile report that we ran on the Main Line area:
This retail profile of Route 30 tells us about consumer preferences as compared to supply on Main Line. This graph shows only eight industries that have a positive factor, or a Leakage factor, which includes lawn and garden supply stores, books and music stores, and vending machine operators. In fact, "Vending Machine Operators" has no supply and $570,543 worth of demand, giving us a leakage factor of +100. Meanwhile, restaurants and grocery stores are very saturated in this market. "Grocery Stores" have a -58.4 surplus factor and "Special Food Services" have a -45.6 surplus factor.
This information is important for a few reasons. First of all, when we look at the Tapestry Segments, we gathered that we have an environmentally active and food conscious market. However, at first glance it would appear from the Retail MarketPlace Profile that the Retail Profile has informed us of a surplus market, meaning that this would be a risky investment.
Of course, this model needs to be complimented with primary sources and a bit of context. ESRI has confirmed that there are too many similar entities along Route 30, but that doesn't mean that our client's investment is guaranteed to fail. While the large supply is true, the model misses the shopping habits of those who live outside of our polygon who may shop in our selected area. Route 30 is a very active commercial corridor, attracting more than just the thin band of households we selected around it. Therefore, if we made our polygon large to capture more houses on either side of Route 30, we may get a different result.
ESRI is a multi-faceted tool that ESI uses for all our analyses along with primary data sources. Its functionality with ArcMaps and R allows us to map and analyze data sets across different sources for a more complete view of the economics and demographics of a select area. This fictional case study barely scratches the surface of the products that ESRI offers, but we hope we have provided a glimpse of how it is one of the data tools we use to serve our clients.
Thank you to Andrea Mannino for help with this project and post. 
Aidan Errickson is a Research Assistant at Econsult Solutions, Inc. and is currently pursuing his B.A. with a major in Economics and a minor in Political Science from Temple University.