For the start of 2018 Econsult Solutions decided to look ahead at key trends affecting the real estate industry. Our set of experts and senior advisors examined the changing landscape of commercial real estate, the rise of connectivity in the wake of the internet of things, and the potential risk climate change has on the future of coastal cities.
Clicks and Bricks will Shift the Retail Landscape
Susan Baltake is a Senior Advisor for Econsult Solutions. She is a marketing, management and media strategist with deep private and public sector experience in land use, community and economic development. Ms. Baltake has branded, grown and launched organizations, managed political campaigns, and served in government.
---
Been to a store lately?  Downtown?  At the local mall?  How about the supermarket?  It ain't your grandparents' retail.  It's not your parents' retail, either. The omni-channel market is on the rise. Interestingly, online shopping generates the most revenue when customers combine it with experiential retail at a brick & mortar store. Shop in person, and then buy online. Or shop online and then buy in person. Fast-growing "showroom-only" setups such as Bonobos for clothing or Warby Parker for eyeglasses enable you to customize merchandise for delivery. An added bonus to retailers is that means less need for retail space and lower overhead costs.
  Millennials are disrupting and re-making the retail industry across the country with insatiable desires for authenticity and experiences.
The CRE Tech Boom
William Luff, Jr. is Founder of CRE Visions, LLC. Prior to launching CRE Visions he spent over three decades as an Adviser/Producer for over 30 million SF of commercial representations and transactions. In addition, he has served in the market leadership role for three of the top four global CRE firms in the industry.
---
"CRE Tech" is now a recognizable term used to identify and communicate the present period where the commercial real estate (CRE) industry has become tech-enabled. Only three years ago the $15 trillion industry had virtually no software support and was vastly undeserved by available technology. Entrepreneurs and smart investors have committed billions of early stage investment capital to build and capture the substantial value to be had. According to a MetaProp's survey, the field of real estate tech companies has ballooned in the last four years and real estate tech incubators have spawned a new generation of innovative companies. For 2018, 86% of startups expect there to be more competition in the real estate tech industry compared with 2017. While CRE technology continues to grow and mature in this sector, many report that a robust and necessary consolidation phase is occurring where energies are focused on the most promising opportunities. The big question is who will survive the next few years? The future CRE Tech seas will require excellent navigation and experienced Seamanship will be a valued asset in this sector.
Rising Sea Levels  and the Impact on Coastal Cities
Christophe Terlizzi is a Senior Adviser of Econsult Solutions. He has extensive experience in real estate financing in the northeastern United States real estate markets with fifteen years in executive leadership roles. His expertise includes sales management, financial planning, credit process, portfolio management, loan servicing and compliance.
---
With climate change in flux, rising sea levels may have a major impact on coastal cities like New York, Miami, Tampa, Houston and New Orleans, just to mention a few in the coming years.  The collective value of real estate potentially at risk in these cities is staggering, not to mention the economic losses that would result from flooding disruptions. Possible solutions include prohibitively expensive flood walls, relocation of mechanical equipment rooms and electric connections. Successful solutions will have to be implemented over a long period of time and require large amounts of capital investment for which there is no immediate monetary return.  Quite the opposite is happening at the moment, as these cities continue to double down on new development in areas that are known to be at risk without appropriate mitigation strategies.
Other trends to watch in 2018
Millennials, the Changing Face of the Housing Market  
Millennials are quickly becoming the largest population of potential home buyers. With technology at their disposal, millennials are better informed about properties for sale and have very specific requirements in mind. While the jury is still out on whether Millennials will choose suburban lifestyle over urban regions, many are looking for a mix that provides walkable neighborhoods, nearby retail options and amenities, and access to public transportation.   Click here to read more about millennials and their affect on the Philadelphia real estate market.
The Internet of Things and our Growing Connectivity
From your alarm clock to your home thermostat, security cameras and self-driving cars – these are just some of the everyday gadgets tracking and transmitting data. Machines, computers and other aspects artificial intelligence will increasingly connect and impact the way we live. Expect the Internet of Things to affect real estate by building bridges between the physical and the logical. For example, by installing sensors in a building, property managers will be able to collect data and analytics to help improve security systems, elevators and HVAC systems which can have a huge impact on efficiency and maintenance cost. We'll most likely see a lot more of this building systems maintenance of in the future. Individuals will look for smart home technology when buying properties and regions will look to design smarter and efficient cities.
This is the first post in a series of blogposts which will explore upcoming trends impacting various industries in the coming years.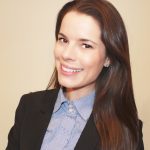 Caroline Lindholm is a Research Assistant at Econsult Solutions, Inc. (ESI). She is a Philadelphia transplant originally from Stockholm, Sweden. Caroline has a BSc in Economics from Stockholm University. Prior to her internship at ESI, she worked at Nordea Bank in Sweden as a financial adviser.