On October 24, 2018, the longest bridge-tunnel crossing system in the world connecting Hong Kong, Zhuhai, and Macau was opened. Hailed as an engineering wonder, this 34-mile system took nine years to construct and now represents the apex of China's transportation infrastructure.
After 40 years of "Reform and Opening", China has emerged as the second largest economy in the world. China's per capita GDP rose from about $230(US) in 1978 to today's $9,000(US).
Recently I spent a month in China to understand the urban and infrastructure developments taking place.
China's Rail System
China has built a comprehensive high-speed rail network connecting most provincial capital cities. The national 4+4 grid of 12,000 miles of tracks has been completed. China is now working on the 8+8 rail grid with a total mileage that will connect all Tier 2 Cities by 2030.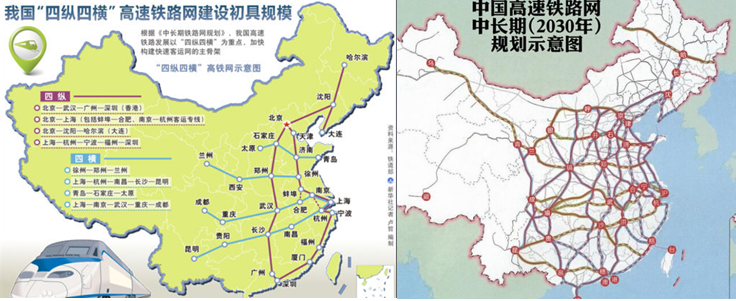 The implication of urban spatial organization is obvious. On an average speed of 190 miles per hour, a passenger who boards a high-speed train in Central China can reach any part of China proper (85 percent of the nation's population) in less than four hours.
The high-speed rail stations are also impressive. In November 2018, I visited the Shenzhen North station, the largest hub in southern China.
With 11 platforms, the Shenzhen North Station allows 20 trains to enter and leave simultaneously. Currently, 300 trains depart each day from this station.
Together, the concourse and shopping mall has 300,000 sq. ft, roughly five football fields. The service level of this modern station is comparable to those in Tokyo, Berlin, and Vienna. The station is also an intermodal center, connecting to two municipal mass transit lines, a long-distance bus station, and a taxi cab station.
However, high-speed rail is only one part of the rail system in China. The inter-city system which connects second and third-tier cities has also been significantly upgraded. For example, I rode the Hexie train several times between Guangzhou and Shenzhen. Running at a speed of around 125 to 180 miles per hour on the traditional network, this frequent service provides good regional coverage.
The third layer of the rail system is the municipal metro system that connects to major intercity rail stations inside the city, and eventually to high-speed rail stations at the periphery. Supplemented to this system is the local light rail system (usually running on elevated tracks).
The local metro plays a critical role on urban development. For example, to alleviate congestion in Beijing, a new municipal government district is being constructed 18 miles east of Tiananmen Square. The plan involves resettling over 150,000 government employee households from the city center. Metro Line 6 was extended eastward to the heart of the government center.
Private developers also see the value of metro access. Close proximity to a metro station creates tremendous land and property value. As such, local governments also supplement buses and shuttles around purposefully designed metro stations.
The Prospects
Local and regional metro systems are rapidly expanding. For example, Beijing is now served by 22 metro lines with a mileage of 430 miles and 400 stations. There are also 140 stations with total track length of 220 miles that are currently under construction.
The situation in the Pearl Delta is even more hectic. The metro system of the provincial capital Guangzhou City has 14 lines, 224 stations and 300 miles of track. It will almost double its capacity by adding another 175 stations and 215 miles of track in the next four years.
About 50 miles south is Shenzhen City, the fastest growing city and the most innovative one in China. The city already has a metro system of 8 lines, 200 stations and 178 miles of tracks. It is fanatically doubling its capacity. By late 2020, the whole system will consist of 15 lines and 356 miles of tracks.
Situated between Guangzhou and Shenzhen are the cities of Foshan and Dongguang. Both of them are heavily investing in metro. Foshan, west of Guangzhou, is currently served by one 20 mile long metro line with 22 stations, with 121 more miles in the final planning stage. Dongguang currently has one line but 3 more lines are under construction. By 2024, the system will add another 51 stations and 81 miles. The long term plan is to develop a system of 200 miles with 84 stations.
Currently, these four adjoining cities have a combined population of 41 million (not counting 7.4 million residents in Hong Kong next door). In less than 10 years, this megacity region will be integrated by a railway network of thousands of miles of tracks, including high-speed rail, intercity rail, metro lines, and light rail, and local bus and shuttle services.
Some Observations
The pace of rail system development is impressive, yet it heavily relies on central government subsidies and debt financing. Like most metro systems in the world, cost recovery could be a great challenge; especially rail development that does not come with an effective value capture mechanism.
To expedite rail development and minimize land resumption cost, metro planners site stations in the periphery and where local resistance is weak. Hence, new stations are usually away from existing high density neighborhoods and are placed far from another station. To minimize construction disruption, separate lines into the same transfer station are seldom integrated at the platform level. Riders usually walk extensively inside a station to connect to another line. For example, a common one-way commuting trip in Beijing usually involves a mile or two of walking to the station and within stations. Commuters in China's major cities commonly spend three hours to four hours commuting each day.
In newly developed areas, building commercial-residential units on top of metro stations is essentially forbidden. They are built at a distance from stations, usually separated by wide boulevards. Transit-oriented development in China cannot be fully integrated to metro planning due to various restrictions. Hence, riders have to walk a distance from stations before entering shopping and residential districts. This lack of spatial connection reduces the value increment potential of sites adjoining stations, and misses a golden opportunity to self-finance metro development.
Despite rail network expansion, most Chinese cities are not pedestrian friendly because of lack of true transit oriented development projects and walkable urban shopping corridors, the presence of low to medium density gated condo communities, and the preference of wide boulevards to define urban spaces.
ESI's partner, ANBOUND, a Beijing-based private think tank, is promoting the concept of pedestrian-oriented development. Coincidentally, when I raised walkability issues with planning professor and researchers at Tsinghua University, they saw eye to eye with me. Given time, China's planners and urban administrators will turn their attention to this issue.
Learn more about our partnership with ANBOUND by clicking here.
Sidney Wong
, Ph.D. is a Senior Advisor with Econsult Solutions, Inc., a fiscal impact expert and the project lead of Community Data Analytics. He previously worked as a senior consultant with the World Bank in evaluating the quality of Project Appraisal Documents in the South Asia Region.