Econsult Solutions, Inc. (ESI) and Drexel University's School of Economics held their first "City and the Environment: Topics in Urban Economic Policy" joint conference on Thursday, May 21 at Gerri C. LeBow Hall on Drexel's campus.
The daylong conference featured experts in the housing, urban transportation, climate change and sustainability fields discussing and sharing their knowledge, experiences and ideas on how Philadelphia can continue to excel in those fields into the future.
The festivities were kicked off with a keynote speech from Dr. Matthew Kahn, professor at the UCLA Institute of the Environment, who spoke on the quality of life in major cities in the Northeastern United States and the opportunities and challenges those cities face.
In his address, Kahn stressed how major Northeastern cities should strive to achieve the "three Es" – environment, economy and equity – and about how a "clean, green and safe" city is the "urban golden goose" because it can not only attract but also retain skilled workers.
For more on Kahn's keynote address, click here.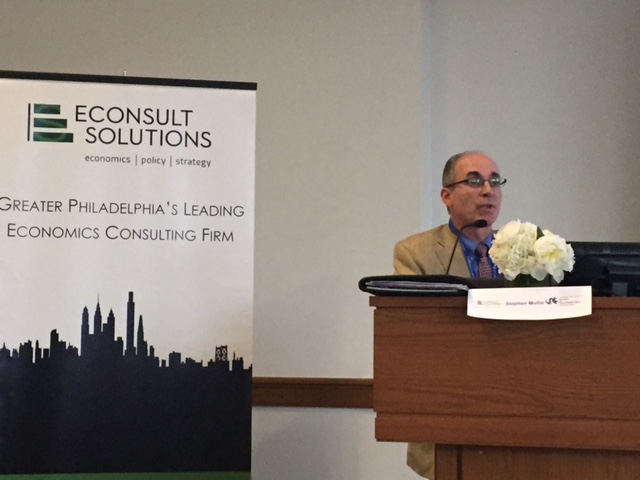 The day's first panel featured ESI president and principal Stephen Mullin moderating a discussion and question-and-answer session on how climate change can affect housing market with Douglas Noonan, associate professor and director of research at Indiana University's Public Policy Institute, Richardson Dilworth, professor and associate director of Drexel's Center for Public Policy, and Sarah Wu, deputy director for planning at the Philadelphia Mayor's Office of Sustainability.
Noonan's portion centered on Sun Belt migration and LEED certified buildings, Dilworth spoke on "growth machine models" and how other cities are investing in infrastructure for potential climate change effects in the future while Wu discussed the climate change research her office has done specifically related to Philadelphia.
For more on this panel, click here.
The conference's concluding panel featured Dr. Matthew Freedman, associate professor at Drexel's School of Economics, moderating a discussion and question-and-answer session on sustainability and urban transportation with Richard Voith, ESI president and principal, Katherine Gajewski, director of the Philadelphia Mayor's Office of Sustainability and Byron Comati, director of strategic planning for SEPTA.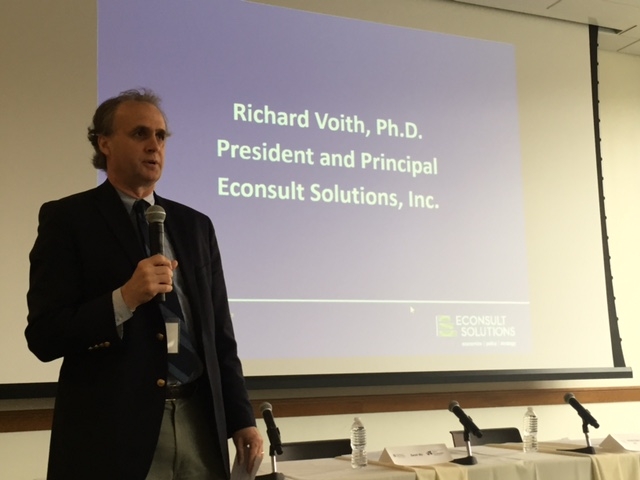 Voith spoke on how transportation is a key factor in urbanization, Gajewski talked about how Philadelphia is evolving and growing not only when it comes to its population but also how the city's population now uses various forms of transportation rather than driving while Comati spoke on the steps SEPTA is taking to become greener and more sustainable.
For more on this panel, click here.
The joint conference was made possible by the continued efforts of the ESI-Drexel School of Economics partnership, which began last fall.
As a corporate partner, ESI contributes to Drexel's tradition of experiential learning, academic excellence and participation in real-world problem solving through research collaborations, educational programs and workplace opportunities.