The second and final panel of Thursday's "City and the Environment: Topics in Urban Economic Policy" joint conference, which was sponsored by Drexel University's School of Economics and Econsult Solutions and was held on Drexel's campus at Gerri. C. Lebow Hall, featured a discussion on the current and future states of sustainability and urban transportation.
Matthew Freedman, associate professor at Drexel's School of Economics, moderated the conversation that featured Richard Voith, president and principal of Econsult Solutions, Katherine Gajewski, director of the Philadelphia Mayor's Office of Sustainability, and Byron Comati, SEPTA's director of strategic planning.
After a brief opening statement where Freedman introduced each of the panelists to the audience, Voith kicked off the late afternoon discussion. The main theme of Voith's segment was just how key transportation is in urbanization. With the urban flight of the 1960s, 70s and 80s, Voith argued that "the decline of transportation in cities was something that almost had to happen" before it improved alongside the quality of city life in the 1990s and 2000s.
Cities now have advantages they didn't have decades ago, Voith said. He argued that cities can now attract more people than the suburbs and cities such as Philadelphia create productivity, which creates a positive effect on public transportation going into the future. Voith finished by saying Philadelphia can and should encourage building around SEPTA whenever feasible.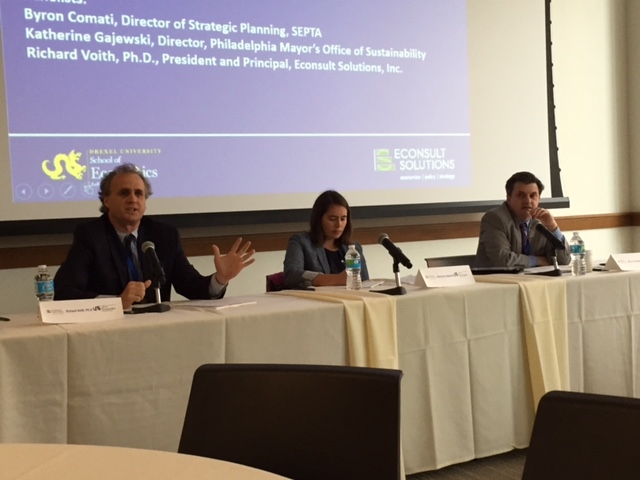 Gajewski spoke next and began by discussing how Philadelphia is growing for the first time in decades and what that means for public transportation in the city. She noted that vehicle usage in the city is down 12 percent over the last decade and that number is expected to continue to grow. In fact, she said public transportation rides in Philadelphia were recently charted at a 20-year high. Gajewski said many people in the city now have a "mode-shift way of thinking" when it comes to transportation. For example, she noted that the recently introduced Indego bike-share program recorded 50,000 rides in its first month.
Despite those facts, Gajewski said funding, planning, zoning, political will and behavior challenges are and will continue to be issues when it comes to maintaining and creating new sustainable transportation.
Comati was the last of the three panelists to speak and explained how sustainability "goes further" with a public transportation service. He noted that about 50 percent of SEPTA's current bus fleet is made up of hybrid diesel buses. He also described how SEPTA has a developed a market for how it puts used energy back into the energy grid by capturing it with a special type of battery that has the ability to release it back into the grid.
Despite the steps SEPTA has taken to become more sustainable, maintaining infrastructure remains SEPTA's main issue, Comati said. For example, he mentioned that SEPTA used 99 bridges that were over 99 years old in 2011.
The panel and the conference itself, for that matter, ended with a question-and-answer session where the panelists answered questions on how they would spend transportation funding and the future of transportation sustainability, among other things.
*****
For more information on the conference, click here.
For more on the conference's keynote address by UCLA Institute of the Environment professor Matthew Kahn, click here.
For more on the conference's first panel, which featured a discussion on climate change and the housing market, click here.