Looking out of the window from the 4th floor of the history-laden Drexel Building, peering down at the action below never gets old. Everything from the commute to the hustle and bustle of Center City is exciting. There's not a single place we would rather be than close to City Hall, which some consider the heartbeat of Philly.
Now picture this: You're walking through the tight-knit corridors of Center City. Almost without even noticing it, the aromatic scents of delicious Mexican cuisine fill your nose. As you walk one more block down the street, a different smell hits you: scrumptious and sweet. No doubt the aroma of fresh pastries. All the while, you pass by small shops run by local owners, with tourists and general passersby enjoying the thriving environment.
Sounds fantastic, doesn't it? The City of Philadelphia is full of life, wonder, and amazing local businesses that are indispensable additions to our region. At ESI, being proponents of and creating conversations around the future of cities is something we value. Local business is an outstanding catalyst for some great benefits, including economic development and growth, increased diversity and inclusion among communities, and a more sustainable and less negatively impactful effect on the environment. We take a strong stance in supporting the local businesses that help get us through our day-to-day lives, whether that be through nourishment, clothing, fragrances, etc. Philadelphia is so fruitful with what it has to offer to all, and the following is one way we are highlighting it.
ESI Eats
One of the great initiatives that is currently taking place at the firm is 'ESI Eats', where our staff is incentivized to go out and explore the restaurant landscape in the surrounding area. Here's how it works:
In the spirit of encouraging team building and supporting the downtown economy, every staff member gets an allowance that can be used when 2 or more people go out to lunch or coffee.
With the onset of this initiative, we have noticed folks on our team bonding, sharing food, and becoming more connected. Aside from this being an incredible way to connect on a personal level, it also helps with our push towards supporting local businesses. Even in our time as Philly natives, there are so many restaurants that we've newly discovered thanks to staff. Further, ESI serves as a creative haven for our employees to present, brainstorm, and execute ideas. With this focus on what our employees have to say, we believe and trust that with their help, the initiative will prosper since they're Philadelphia residents and know the goings-on of our great city!
Words from the President
ESI is striving to continue supporting and highlighting local businesses. We recently sat down with firm President and Principal Lee Huang to get his thoughts on the importance of supporting local businesses. With progressive leadership straight from the top down, Mr. Huang generously gave the following thoughts on this effort:
"Earlier this year, I made the call to bring us back into the office. Part of that is because I believe that as a firm we work better together in person, both in terms of doing the work and in building our culture. But maybe a bigger reason, which I kept coming back to as we deliberated the matter, is that as a firm that purports to be about cities and that is working towards a brighter future for our cities, it feels good for us to be putting that into action by contributing our own foot traffic to the downtown scene and our own discretionary spending to local businesses.

In this regard, coming back to the office and giving staff a monthly allowance to dine out is the natural consequence of the notion that our existence as a firm is not as an island, but in relationship with a physical location, an ecosystem of businesses and residents and commuters and tourists. We benefit from the setting in which we're located, and the shopping options and public amenities and street life that we can access here. And, in turn we benefit the setting by being physically present, for it's our eyes and ears and dollars that help make the city safe and vibrant.

Now, practically, who doesn't love getting some money to eat out? So I guess you could call this an employee perk. But it's also an invitation to come together around a set of shared values that we are trying to foster in the firm and among our staff, which is that who we patronize and where we spend our money is a reflection of what's important to us. It's why I've encouraged people and asked our marketing team to amplify the support of local businesses and entrepreneurs of color and places that prioritize the environment.

I acknowledge we're a small company, so the magnitude of our impact is relatively minimal. But it's meaningful for us. And maybe it sparks similar actions by other organizations, big and small. We believe in the future of cities, and we're committed to the future of Philadelphia. This is one way we're putting those values into motion."
Closing Thoughts and Social Media
As Mr. Huang noted, putting these values into motion is one of the most important things we can do. Dining and shopping small are some of the simplest ways to help support and give back to local communities, and in the city, it is so easy to do. Besides the fact of it being hard to pass up fresh and locally prepared food from our neighbors, eating locally truly does carry so many benefits to the community that often go unnoticed.
Another hugely beneficial component in creating more buzz and support of local businesses is also the highlight of them—and social media is a wonderful tool to achieve just that. Through the continued promotion of our wonderful local business neighbors in all of our communities, as well as showcasing our company's personality, this initiative is an exciting step in increasing engagement and involvement in this locale we all share together. Social media is truly a powerful asset to any business in this day and age, so come take a look at ESI's Instagram to see more about this initiative, as well as what our staff likes to chow down on. Finding new ways to innovate our social footprint is a step we are greatly looking forward to taking. The opportunities are endless, and this is one step in the direction of a brighter future.
Salvatore Gullotta | [email protected]
Salvatore Gullotta is an intern at Econsult Solutions working in the Business Development and Marketing Department. He is currently a second-year student at Drexel University, and assists at ESI with proposals and content management (managing ESI Present Value [weekly blog] and social media).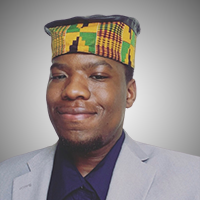 Kagiso Reed | [email protected]
Kagiso Reed is a Business Development and Marketing Associate at Econsult Solutions, Inc. (ESI), where he works within the operations of the business development team. In addition to working with client relations and assisting with proposals, he is responsible for navigating new methods of traditional and social media content development to further push the framework of ESI's brand.