In our last post about COVID-19 and public transit, I discussed potential short run challenges and long run implications for the epidemic. The short run is now here. Philadelphia's transit agency, SEPTA, is reporting an 88% reduction in travel on its commuter trains linking the city and the suburbs, and a 60% reduction in its normally heavily-used subway, trolley and bus services. These declines mirror the percentage declines in its much larger neighbor, the New York Metropolitan Transit Agency (NY MTA). Transit, after all, is in the business of bringing a lot of people into dense urban spaces, so it's not surprising that big city transit agencies, in the era of social distancing, are experiencing steep declines in use.
Since fares are a key revenue source, the agencies are now projecting huge budget shortfalls. SEPTA is projecting a $150 million deficit for fiscal year 2020, which ends in June. The NY MTA is seeking $4 billion in federal funds to COVID-19 related revenue shortfalls and added costs. Of course, transit agencies will reduce service in the short-term in an effort to cut costs, but cost reductions will be greatly outpaced by revenue losses, as lower service levels only reduce some elements of cost. In addition, there remain many people providing essential services that still rely on transit service. Reducing transit frequency makes transit less convenient for those remaining riders, and perversely tends to increase the number of people on each transit vehicle, contrary to the goals of social distancing. Moreover, cutting costs through job cuts would only shift the burden to other aspects of the public assistance system. Ultimately, it is in all of our interest to redouble our financial support of transit, so that we do not fundamentally undermine our ability to provide quality transit service when we move past COVID-19.
There is precedent for the Federal government providing assistance to the transit industry in times of national crisis.  To help exit the Great Recession of 2008-2009, Congress enacted the American Recovery and Reinvestment Act (ARRA) which was designed to stimulate the economy in part through infrastructure investment.  SEPTA successfully planned and executed many projects supported by the ARRA. The stimulus bill in response to COVID-19 that is advancing in Congress will likely provide additional funding to transit agencies across the country, as well. However, the problems now confronted by transit agencies like SEPTA are very different than those during the Great Recession.  While transit ridership fell in 2008 because the economy slowed, COVID-19 has nearly eliminated transit use. When the need for social distancing ends, transit agencies will be confronted with the need to reattract customers in an era of when people and businesses have been forced to be adept at remote working and socializing. In addition, the transportation market place has become more competitive and data driven, further challenging agencies like SEPTA.
Looking to the future, SEPTA will have to work smartly to tailor its system, fare structures, and marketing to realize its potential to equitably enhance the region's economy and quality of life. Along with its currently underway bus network redesign, it will need to continue to create innovative fare structures. This includes things such as universal passes sold to organizations providing transit access to all of its members, additional sales channels through universities, businesses, and other organizations, communicate specifically with individual market segments within the region, and where appropriate, explore integration with other modes and service providers. Post COVID-19, SEPTA can be a positive force in shaping the new normal.
Dr. Richard Voith
 is a well-known expert in real estate economics, transportation, and applied microeconomics. As President & Founding Principal of ESI, Dr. Richard Voith oversees a wide variety of projects in the realm of housing, labor markets, transportation, and economic development.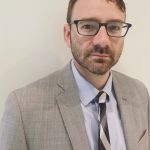 Ethan Conner-Ross
is Vice President and Associate Principal at Econsult Solutions, Inc (ESI).  Mr. Conner-Ross joined ESI in 2013 as a Director, and was promoted to Vice President and Associate Principal in 2019. His practice areas include public policy, economic and fiscal impact assessment, strategic planning, economic development and litigation support.