Philadelphia's restaurant industry is a core part of the city's identity. With nationally recognized chefs including Nicholas Elmi (Laurel, and a past Top Chef winner), Cristina Martínez (South Philly Barbacoa), and Marc Vetri (Vetri Restaurants), Philly can hold its own against the likes of NYC and LA. Then there's Michael Solomonov and Steve Cook's Zahav, which won the 2019 James Beard Award for best restaurant in the country (Solomonov also won the Outstanding Chef award in 2017, and pastry chef Camille Cogswell won rising chef of the year in 2018 while at Zahav). Newcomer Kalaya (led by chef Nok Suntaranon and My-Le Vuong) has recently attracted national attention for its southern Thai cuisine while Pizzeria Beddia in Fishtown was named Best Pizza in America.
As we all know, restaurants have been crushed by the COVID-19 pandemic. Current unemployment claim numbers for Philadelphia show that former accommodation and food services workers make up more than 25% of all continuing claims in the city (Center for Workforce Information & Analysis). But there are also many stories of good work being done: meals for health care workers and laid-off restaurant staff, industry relief funds, and more. Many restaurants have gotten creative with takeout options- meal kits, "non-pizza boxes" "streeteries," and outdoor pop-ups – to survive during this unprecedented time. But as Philadelphia moves into a new phase of reopening, with restaurants allowed to accommodate up to 50 percent capacity (with certain restrictions) starting October 2, many would-be customers remain hesitant to return indoors. While increasing capacity is vital for the survival of many restaurants, as of September 28th, only 38 percent of Americans feel comfortable eating in restaurants.
Restaurant closings have hit the city hard, as they have throughout the country. Between March and April of this year, job numbers in food services and drinking places in Philadelphia dipped below 30,000, down from an average of about 70,000 over the previous year. While numbers are showing signs of rebounding (August's preliminary numbers showed 47,000 jobs), this still represents a substantial drop from the typical baseline. Importantly, Philadelphia relies on the restaurant industry to fuel its economy, and thousands of individuals depend on these jobs for their livelihoods.
Jobs in Food Services and Drinking Places, Philadelphia (Source: Bureau of Labor Statistics)
Consumer spending on restaurants and hotels in the Philadelphia metropolitan area experienced a sharp decline during COVID-19, falling more than 65% below the January 2020 baseline before gradually returning to previous levels over the subsequent five months. In fact, spending in this area stood at 6.7% above the baseline on September 20, as shown through the Track The Recovery data tool.
Change in Consumer Spending on Restaurants and Hotels in the Philadelphia Metro Region, January – September 2020 (Source: tracktherecovery.org)
A look at OpenTable's data comparing bookings between 2019 and 2020 reveals a similar story. Following the March 16 shutdown of dine-in services, reservations dropped to zero for nearly three months before outdoor dining was reintroduced on June 10. The rebound has been gradual but steady, with numbers still well below those from 2019. Philadelphia is faring similarly to other cities, and while the exact numbers depend largely on local regulations around both indoor and outdoor dining, the gradual upward trends are promising. In fact, Philadelphia appears to be doing particularly well: its numbers have rebounded more quickly than New York's and Washington's, despite similar reopening restrictions and timeframes. Although impending colder temperatures will likely limit the appeal of outdoor dining, Philadelphia's move to 50% capacity, coupled with a growing presence of space heaters and firepits, may allow for this upward trend to continue.
In addition to these overall numbers, it is important to consider which restaurants and businesses are experiencing the biggest challenges. As of September 13, small business revenue in leisure and hospitality was down 57% compared to January 2020. Black- and Brown-owned businesses are also disproportionately impacted by disruptions caused by COVID-19. At a recent webinar hosted by the Chamber of Commerce for Greater Philadelphia, panelists discussed the systemic forces that have contributed to this discrepancy, along with steps to work toward correcting it.
OpenTable data for Philadelphia and comparable cities, percent change from 2019, 7 day rolling average (Source: OpenTable)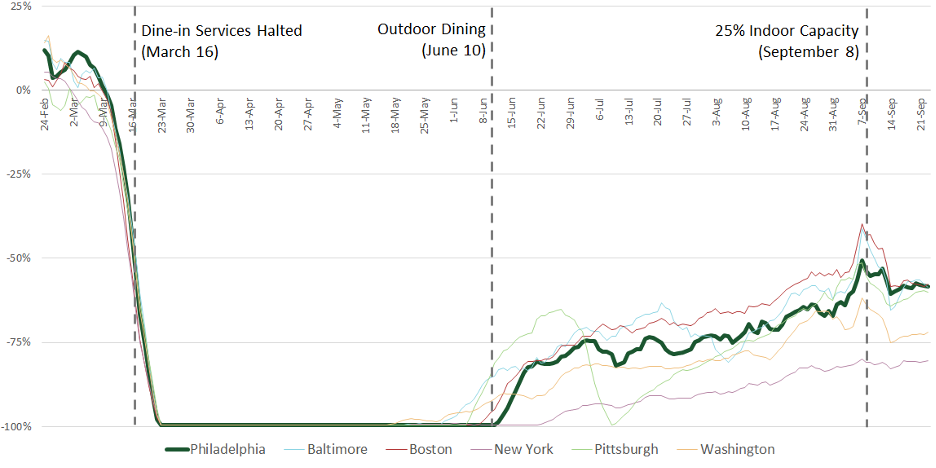 As the city's hospitality sector continues to rebound, ESI is ready to support these efforts. ESI often works with local governments, tourism agencies, and industry associations to evaluate their economic impact and develop strategies for future growth. Two examples of recent studies in this arena are the Ocean City, New Jersey Economic Development Strategy and NYC's Nightlife Economy: Impact, Assets, and Opportunities. Projects like these, which incorporate a range of datasets and policy issues, reflect our commitment to using data-driven analyses to help the places we love continue to grow and thrive.
Julia Cohen is a Senior Analyst at Econsult Solutions, Inc. with expertise in quantitative and spatial analysis. Prior to joining ESI, Ms. Cohen interned with ESI while completing a dual Master's degree in City Planning and Historic Preservation at the University of Pennsylvania, with a concentration in community development and a certificate in spatial analysis.
Babaseun 'Baba' Ige is an Analyst at ESI. Baba graduated from Temple University's Fox School of Business in 2020 with a BBA in Economics and a minor in Business Analytics. With formal training in economics and statistical analysis, Baba has a multitude of tools at his disposal to assist ESI in the day-to-day occurrences of its business.