The disproportionate impact of COVID and of economic distress on Black and Brown people. The unending and infuriating cycle of Black bodies being assaulted before our eyes. The resulting pain and protest that is being manifested in communities across the country. The events of this past year have underscored the deep inequities, systemic injustices, and entrenched racism in this nation.
Econsult Solutions, Inc. stands unequivocally against structural racism. And we actively seek to do what we can to root out wrong and contribute to a more just, inclusive, and vibrant society.
One way we can do this is to train our strongest attributes – our ability to marshal sophisticated quantitative analysis, policy research, and proven strategies to achieve substantive progress in the real world of systems, politics, and egos – to do meaningful work around equity and inclusion. Hence Equity & Inclusion is one of our Practice Areas, within which we do studies and provide strategies in support of equity and inclusion initiatives.
It is not lost on us that all of our other Practice Areas benefit from – in fact, demand – statistical and strategic work that is done with an equity and inclusion lens. Such is the entrenched nature of the problems we are dealing with in our society and therefore of the solutions that will produce real and lasting change, that we cannot look at challenging issues in Real Estate or Transportation or Higher Education, for example, without accounting for equity and inclusion issues.
This is hard and nuanced work, but we are up for the challenge.
Much of our confidence comes from the tremendous thought leadership represented by our Senior Advisors, whose experiences and perspectives continue to influence people, communities, institutions, and systems. We are glad we can deploy their insight and inspiration on behalf of our clients and for the public good.
Recently, we sat down with three of our Senior Advisors, as well as Brittany Forman, ESI's Lead Director for Equity & Inclusion, for a rapid-fire Q&A session on equity and inclusion. The objective of our discussion was to provide substance and focus in support of the key areas that must be addressed in order to effect real progress and lasting change.  In other words, we're not here to pontificate; we're here to move things forward. Please enjoy these insights and connect with us to keep the work going.
Brittany, as ESI's Lead Director for Equity & Inclusion, what are some of the studies you have supervised in this space, and how have they added substance and direction to the discourse around equity and inclusion?
Addressing inequity in our society requires an honest look at whether and where those disparities exist. And this is something we're quite good at doing at ESI. We provide sophisticated and level-headed analysis, presented in a way that is accessible to lay people. Our public sector work in this space includes analyzing contract and employment opportunities for minority-owned and women-owned businesses, as well as analyzing the distribution of capital access and banking services for individuals in low-income or minority areas. Our private sector work in this space examines the impacts of commercial activity – real estate development, retail corridors, small businesses – on an area's most vulnerable and marginalized neighborhoods. In all cases, our aim is to use data analytics to shine a spotlight on what is happening and yield insights for how to effect lasting change for communities and regions.
Lee, you've been an effective administrator and consultant in the public education space, which is – historically and presently – a major flashpoint for racial segregation and disparate resources. What has been your north star, as you have run or advised school districts, on how to prioritize student achievement and to do so in a way that is inclusive of all students?
I have been involved in the public education space since 2005 and have had enormous opportunities to work with and witness what really happens inside schools and administrations of all sizes, at the policy making level, and in hundreds of communities and neighborhoods of all types, sizes, and demographics. I have yet to find any stakeholders — regardless of background — who wants less for their children, in terms of academic achievement, safety and security, or optimism about the future.
In my humble opinion, the huge difference between communities that are wealthy and those which have been disparaged and underserved, is the amount and availability of resources to solve historical and long-standing problems of inequity. The primary reason we have segregation by race or class inside school systems is not because parents or students want less: it is because there are funding systems, policies and practices that mitigate against attaining true academic equity. The predominant way of funding public education via property taxes has inherent bias and leads to subsidization continues year after year. I've been a part of the annual treks to state capitols or city halls by superintendents or charter school CEOs to appeal for more money. Those treks and appeals could be eliminated if providing equivalent access to public education was more highly valued and appreciated.
Thus, my consultative approach has been to advise clients to re-think the way they gather and deploy resources, looking for more efficient and effective ways to provide "fair and adequate" educations for their students. I also work directly with educational leaders to transform their schools using best and promising practices, with the goal of improving their performances and changing the way they approach their work. This is hard but rewarding work that requires diligence and focus, and as a Senior Advisor with ESI, I know we have the capacity and capabilities to accomplish the task.
Angela, you ran the Office of Economic Opportunity for the City of Philadelphia for many years and now advise your clients on diversity procurement initiatives. This is such a critical area for ensuring equity in economic opportunity. What are some good examples of this that other places should emulate?
I recommend the following seven steps for anyone seeking to build, expand, or enhance their supplier diversity program:
Establish a vision that is shared widely throughout the organization
Deploy a team of doers who will be responsible for breathing life into your vision
Tools of engagement should be put in place to institutionalize the commitment to M/W/DSBEs.
Acknowledge the wins and lessons learned then recalibrate goals and strategy as needed.
Initiate innovative strategies that stretch an organization's imagination.
Include M/W/DSBE requirements in your contract terms and conditions with your third-party contractors and service providers.
Collaborate with organizations such as the Minority Supplier Development Council, the Women's Business Enterprise National Council and other organizations like the Philadelphia Industrial Development Corporation and the Philadelphia Commerce Department Office of Economic Opportunity.
These are just a few of the essential steps required of organizations that are committed to establishing, enhancing, or expanding their supplier diversity programs. Platitudes and pledges (e.g. visibility at trade shows, scheduling meetings with no follow through, website registrations that lead to nowhere, etc.) are worthless without the actualization of results to match the magnitude of your leadership's commitment. With a clear vision and deliberate, energetic, and decisive leaders/doers throughout your organization, you can build and sustain a successful diversity procurement program that yields economic parity for so many struggling, viable M/W/DSBEs.
We have edited Angela's response down as it relates to this Q&A. To read Angela's response in full, please click here.
Blane, as head of a construction project management and owners' representation company, you have been a staunch advocate for diversity in both real estate and construction, two industries that have long struggled with equity and inclusion. What needs to change for real progress to occur?
Diversity As A Way of Doing Business
Diversity as a Dashboard Metric
Create Support Structures
Forego Low Bids
Actionable Consequences
Create Carve-Outs
Create Support Structures
More government regulations that force desired contractor behaviors will fail. Instead, we are in desperate need of Board-Room, C-Suite, and Public Sector leadership from businesses, schools, colleges and universities, churches, institutions, government, quasi-government (PWD, PGW, airport and school district), non-profits, and private developers in the Greater Philadelphia Region to address this glaring issue. Focused leadership in the areas of diversity and inclusion is the only possible solution to the OhSoWhite exclusion crisis.
We have edited Blane's response down as it relates to this Q&A. To read Blane's response in full, please click here.
Meet the Authors
Lee Huang brings over 20 years of experience in economic development experience to Econsult Solutions' (ESI) public, private, institutional, and not-for-profit clients. He leads consulting engagements in a wide range of fields, including higher education, economic inclusion, environmental sustainability, historic preservation, real estate, neighborhood economic development, non-profits, retail, state and local government, strategic planning, tax policy, and tourism/hospitality, and is a sought-after speaker on these and other topics.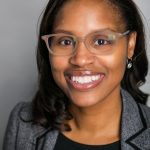 Brittany N. Forman is a director at ESI. At ESI, Ms. Forman leads projects in the areas of community and economic development, municipal consulting, economic inclusion, and nonprofit management. She helps clients assess budgets and policies, evaluate programs and operations, conduct stakeholder outreach, and quantify economic impacts. Ms. Forman enjoys managing both small and large projects from inception to their successful completion.
Dr. Leroy D. Nunery II is a Senior Advisor with Econsult Solutions and is Founder and Principal of PlūsUltré LLC, a boutique advisory and consulting company started in 2007 whose mantra of "Inspiration, Imagination, and Innovation" reflects its approach to enhancing the strategic and operational capacities of educational, non-profit, and entrepreneurial entities.
Angela Dowd-Burton is an award winning business professional with over twenty-five years of diverse business experience and public service. She has served in global roles in finance, procurement, business development, and local government public policy. She currently serves as senior advisor to Econsult Solutions Inc.
Blane Fitzgerald Stoddart is President and CEO of BFW Group, LLC. BFW provides construction project management, program management, owners' representation, LEED Administration, and development consulting services to non-profit and for-profit developers, government, contractors, schools and institutions in the Mid-Atlantic region. Mr. Stoddart formerly served as Vice President of Business Development and Customer Care for Innova Services Corporation.