We at Econsult Solutions have a deep appreciation for the history of the city we call home, Philadelphia. We know firsthand that historic preservation plays an important role in the economic vitality of cities.
Home of The Father of the Underground Railroad, William Still
From 1850-1855 fugitives from slavery had their first experience of freedom here.
When you walk around Philadelphia it is easy to sense American history and the people who walked here before—colonists along Elfreth's Alley, patriots at City Tavern, our nation's forefathers in Independence Hall, industrialists when you stroll along the new Rail Park. The influences of waves of immigrants are evident throughout Philadelphia's neighborhoods. Take for example the commercial core of the Bella Vista neighborhood, South 9th Street with its sidewalk awnings and produce stalls, it is known to this day as "The Italian Market," harkening the not so distant past. However, when you walk around Bella Vista these days, there is no trace of its place in the Abolitionist and Vigilance Movement.
On March 9 of this year, a major landmark of the Underground Railroad discovered in Bella Vista was added to the Philadelphia Register of Historic Places. From 1850-1855, 625 South Delhi Street (known as Ronaldson Street before 1897) was the home of William Still, the prominent abolitionist and leader in the vigilance movement who has become known as the Father of the Underground Railroad, and his wife, Letitia who worked as a seamstress. At this time there is no historic sign to be found along the 600 block of South Delhi marking this important history. It has taken historians years to uncover specific details about the Underground Railroad; indeed, given its covert operation, many stations in the network and the stories of those who traveled it in their quest for freedom have been lost.
The William Still House and Underground Railroad Way Station does not stand out as a landmark; it sits at the end of a row of homes, most of which date back to the early- to mid-1800s. Most have been altered over time, no longer reflecting their historic appearance, including 625 S. Delhi. It seems fair to say that the home's physical appearance doesn't warrant historic preservation. In this case, it is the person who lived there and what took place inside its walls while he lived there that warrant historic designation and protection.
Antebellum Philadelphia had a considerable African American population; the neighborhood that has come to be known as Bella Vista grew into a flourishing African American community. The Anti-Slavery movement gained momentum here and among the region's Quakers. Starting around 1804, the Underground Railroad developed as loosely knit networks of escape routes, "way stations," and "conductors" or "pilots" who would guide freedom-seekers from station to station northward to free territories. When the Fugitive Slave Act became law in 1850, free states became dangerous territory for escapees and all U.S. citizens were mandated to aid in the capture and return of run-aways or face arrest and steep penalties. That same year William Still took up residency on Ronaldson Street, he became the Chairman of the Vigilance Committee of the Pennsylvania Anti-Slavery Society and stepped up efforts to aid fugitives from slavery, becoming a chief operative of the Underground Railroad. He and his wife Letitia sheltered and aided hundreds of people fleeing slavery during their five years on Ronaldson Street (for most it was their first experience as a free person).
"The heroism and desperate struggle that many of our people had to endure should be kept green in the memory of this and coming generations." – William Still
Enactment of the Fugitive Slave Law instilled fear among Underground Railroad operatives who destroyed their records of the escapees whom they had given aid. William Still instead continued to keep detailed accounts of the people who passed through Philadelphia on their way to Canada. He did so even though it implicated him in unlawful activities, putting his own safety and freedom in jeopardy. He had hoped that the records would one day help families reunite. His journals include accounts of Harriet Tubman transferring Underground Railroad passengers to safety on Ronaldson Street. He hid the journals, then in 1867 he wrote a book to chronicle the details contained in them, it was first published in 1872. The 800-page volume titled, The Underground Rail Road is the single most authoritative "passenger manifest" and first-hand account of what took place during that tumultuous era in American history.
Harriet Tubman crossed this threshold with escapees from southern plantations on their way to freedom.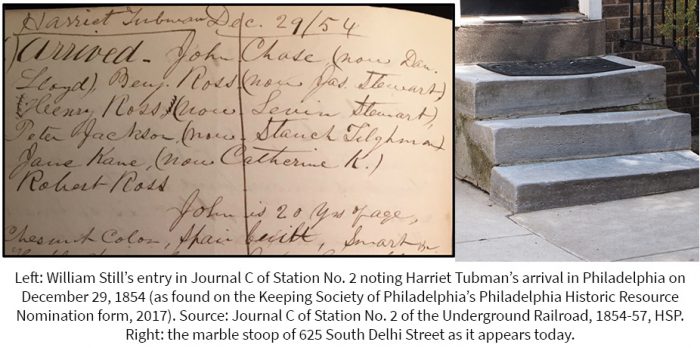 Humble as it may appear, 625 South Delhi Street is a historical landmark commemorating the Abolition, Anti-Slavery and Vigilance Movement, just as Independence Hall represents the Birth of a Nation. The Underground Railroad and the work of William Still have shaped American culture and society, moving us closer than before to the ideal the forefathers held in the founding of our nation, E Pluribus Unum, out of many one.
The nomination of the William Still House and Underground Railroad Way Station was completed by The Keeping Society of Philadelphia. The author thanks Historic Archivist James Duffin of the Keeping Society for allowing her to interview him for this article.
The discovery of this historic resource and its inclusion on the Philadelphia Register of Historic Places was reported in the following media outlets:
Plan Philly, March 9, 2018
WHYY, March 10, 2018
The Washington Post, March 22, 2018
Smithsonian Magazine, March 23, 2018
The Daily Mail, London, England, March 22, 2018
Asharq al-Awsat, London, England, March 24, 2018
CBC Radio, Canada, March 22, 2018
Follow the links below for further study about William Still and the Underground Railroad in Philadelphia:
Audacious Freedom, a permanent exhibition at the African American Museum in Philadelphia
Underground Railroad: The William Still Story, a documentary film by 90th Parallel in association with Rogers Broadcasting Limited and WNED-TV Buffalo/Toronto
A Guide to the Underground Railroad in Philadelphia, Visit Philadelphia
The Johnson House Historic Site, An Underground Railroad Station and House Museum
The National Underground Railroad Freedom Center: William Still
This Present Value article is the first in a short series of two on the subject of historic preservation in Philadelphia.
__________________________________
About Econsult Solutions – Historic Preservation
Econsult Solutions Senior Vice President and Principal Peter Angelides, PhD, AICP, was named to the Philadelphia Mayor Jim Kenney's Historic Preservation Task Force, providing economics and financial guidance to the effort.
Econsult Solutions provides comprehensive solutions for historic preservation to developers and organizations who are stewards of historic resources.  The firm has undertaken several studies estimating the economic impacts of historic preservation. ESI's principals have a long history with Historic Preservation. President Stephen P. Mullin was a member of the City of Philadelphia's Historic Commission in the 1990s and has served on the Preservation Alliance for Greater Philadelphia's Advocacy Committee for over a decade. ESI Senior Vice President Lee Huang served on the Preservation Alliance's board during the early 2000s. Senior Advisors Craig Schelter and Alan Greenberger have long been involved in preservation efforts in Philadelphia.
Laura Burtner is a Marketing Assistant with Econsult Solutions with responsibilities for graphic design. She has published two historic resource guide books and designed museum display panels for a newly opened historic building museum dedicated to Moravian women for Historic Bethlehem Museums and Sites.