It has been a busy year for Econsult Solutions. We are grateful for our staff, senior advisors, and project partners who have made 2019 one of our best. This edition of ESI's Present Value features a review of the highlights in the firm's following practice areas: Economic Development, Higher Education, Transportation, Public Policy and Finance, Strategic Initiatives, and Thought Leadership. This occasion gives us the opportunity to observe how ESI has expanded in scope, impact, and geographic footprint. We are proud to provide a growing roster of clients with strategies and insights to meet their goals and improve their businesses and communities.
The first-ever impact analysis of New York City's nightlife economy was released this year, completed by Econsult Solutions in partnership North Highland and Urbane Development. Commissioned by the Mayor's Office of Media and Entertainment, the report provides case studies exemplifying the nightlife economy within each of the five NYC boroughs as well as detailed analysis of:
The direct impact of NYC's nightlife economy with historic trends across subsectors and geographies.
The total economic impact of NYC's nightlife economy, including indirect, induced, and ancillary spending, as well as fiscal impact.
The distribution of nightlife establishments and venues using geospatial data visualization to model historic taxi/Uber/Lyft trip demand during key nightlife hours.
In total, we found that the NYC nightlife economy has a $35 billion annual impact. What's nightlife worth in your city? We can help you find out.
Philadelphia is our home and we are proud to provide support to Special Service District, The North Broad Renaissance. ESI President Stephen P. Mullin serves on the board of directors integrating his expertise as the organization strengthens the North Broad Street corridor. One of Philadelphia's most prominent thoroughfares, it supports neighborhoods, businesses, and institutions. North Broad's entertainment, retail, and job center assets are expanding, bringing renewed energy to this important area of the city. North Broad Renaissance's report, The State of North Broad 2019 is the stakeholder's guide to understanding how to take full advantage of community and economic development opportunities to improve neighborhoods for residents and businesses.
Fused with this effort, in 2019 we guided People for People, Inc., a North Broad St. community services anchor founded by the Reverend Herbert H. Lusk, II, through an RFP process that will leverage their assets to enhance opportunities in the corridor. We are also active with specific development projects along N. Broad Street, we work with EB Realty Management Corp., and Temple University, and others.
Econsult Solutions provided Opportunity Zone Advisory Services to the City of Wilmington, DE, and the City of Chester, PA which have Federally Designated Opportunity Zones.
ESI Directors Brittany Forman and Dan Connelly gave presentations to public officials throughout the year, and were expert panelists at several real estate development and investment forums.
Economic Impact Studies  Throughout 2019, we also provided Economic Impact Studies for more than twenty of Philadelphia's anchor institutions and organizations, including: the Franklin Institute, Old City District, SBN's Green City Clean Waters program, the Kimmel Center, Philadelphia Film Society, the Greater Philadelphia Film Office, Philadelphia CraftNow, and we've started a project with the Philadelphia Free Library with J2/ExploreExit Design. Add to that the Pennsylvania Economic Development Corporation; Chester County's Protected Open Space; and the Delaware River Watershed segment of the East Coast Greenway, to name a few.
Tulane University is a top-ranked research and higher education institution, founded on a mission that emphasizes integrating education and research with intellectual pursuits and community-based initiatives.
A Force for Good at the Local, Regional, and Global Levels: The Economic and Social Impact of Tulane University, the report summarizing our analysis and findings articulates the University's impact in terms of economic output, jobs created, and tax revenues, generated from Tulane's annual operations, large-scale capital projects, and visitors. Also highlighted in the report is Tulane University's role as an anchor institution in New Orleans and the state of Louisiana, extending its values and mission far beyond the classroom resulting in broader societal benefits, often enhancing the quality of life for local and regional residents.
Campus Philly knew it was on to something big, but needed objective research and analysis to lean on in telling their story. The Philadelphia region's young college-degreed population has steadily grown. And with top-notch institutions of higher learning located here, it can be said with numbers to back-up that talent retention is going strong. While the general population has grown at a rate of 4%, the rate growth is 115% for young adults with college degrees. For our report to Campus Philly, we analyzed data from a variety of sources to measure growth in this population cohort, including Linked In's Career Insights platform.
Solutions for Universities and Hospitals  Over the years we have provided Solutions for Universities and Hospitals, and 2019 was no exception. We also helped Villanova University demonstrate it's social and economic impact, the University of Wisconsin Athletics show the positive impacts of its events and programs, as well as Simpson University, and many more.
Do Philadelphian's value convenient transit? Our analysis demonstrates a strong correlation between property value premiums and proximity to Southeastern Pennsylvania Transportation Authority stations and routes. And, higher property values increase taxable values, to the tune of a combined $233 million in annual property tax revenue for jurisdictions and school districts of the SEPTA service region.
Our report to SEPTA summarizes the agency's property value impacts region-wide. We also delivered an interactive tool that allows the user to easily see where and by how much property value premiums are realized. The ESI team did so by developing data visualization functionality that the transit authority has incorporated into its web platform.
Our report to the Port Authority of Allegheny County, PAAC, the greater Pittsburgh, Pennsylvania regional public transportation provider, measured the total economic impacts of the agency's services. We analyzed PAAC as a significant regional employer, purchaser of goods and services, and tax revenue generator for the state of Pennsylvania and a multitude of local government and school district entities.
Further, our report to the transit authority demonstrates the efficiencies supported by the service provider. Through mapping and analysis of housing and demographic data, we illustrate the density of employment nodes, and workforce access gained through provision of convenient and efficient transportation services. The analysis promotes the Pittsburgh region's competitive advantage, and shows how PAAC's investments help shape regional development patterns, and enhance property values.

PATCO: BUILD Grant Recipient
Port Authority Transit Corporation, PATCO, was successful in their bid to receive federal funding from the USDOT Better Utilizing Investments to Leverage Development (BUILD) program. The funds will enable the reopening of the Historic Franklin Square station at 7th and Race Streets in Philadelphia. Following needed renovations, the station will reopen in 2023 after having been closed for decades. The reopening of the station allows renewed commuter access from New Jersey into Center City. We are proud to have assisted PATCO!
Solutions for Transportation  Econsult Solutions Transportation practice is keenly focused on the economic impacts of modes of transportation with an eye to the community impacts as well. We completed a property value analysis for Montgomery County, MD's Bus Rapid Transit, Congestion Impact analysis for SEPTA, Projects of Regional Significance analysis for SEPTA, and Autonomous Vehicles Readiness Index with KPMG. Look for more to come in 2020.
PA DCED Act 47 Recovery and Early Intervention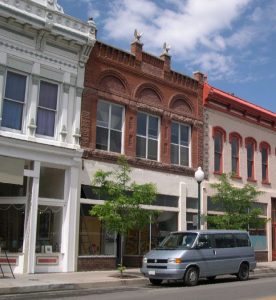 Econsult Solutions, together with McNees, Wallace, & Nurick, LLC, and SRW Strategies developed an Early Intervention Program for the Borough of Pottstown under PA DCED Act 47, which includes a Financial Conditions and Trends analysis, and Management Audit of borough departments. Our report to Pottstown includes over fifty recommendations addressing every aspect of government operations.
ESI and McNees, Wallace, & Nurick, LLC continue to serve as PA DCED's Act 47 financial recovery coordinator for the City of Chester and the Borough of Colwyn. Our team works with officials, employees, and community stakeholders of these jurisdictions in developing comprehensive recovery plans that address all areas of municipal operations with a goal to aid each in returning to self-governance.
Congratulations to our clients who were 2019 RACP funding awardees!
2019 was a banner year for Econsult Solutions' RACP clients! Eighteen were awarded PA Redevelopment Assistance Capital Program grants. We are proud to be a part of their success and applaud their impacts on the communities where they invest.
Leopard Real Estate and Kassis Ventures – Proto Brewery Hotel – $1.0M
University of Pennsylvania – Pennovation Works – $1.5M
The Williams Group and Pride Enterprises – Cobbs Creek Commons – $1.5M
Allegheny West Foundation – 22nd Street Commercial and Community Development – $1M
Esperanza Health – Community Medical Care – Phase 2 – $500K
Esperanza Health – Wellness Campus – Esperanza Health II – $500K
Philadelphia Bar Foundation – Equal Justice Center II – $1M
The Mann Center – $1.5M
Pennsylvania Ballet Association – $1.5M
United Lutheran Seminary – Redevelopment and Expansion – $500K
Schuylkill River Development Corporation – Christian to Crescent Trail – $1.48M
Hunt Companies – Sharswood Phase II – $750K
Community College of Philadelphia – West Philadelphia Expansion – $2M
Philadelphia Freedom Valley YMCA, Willow Grove – new 100,000 s.f. facility/wellness center – $250K
Pennridge Development, Bucks County – mixed-use development – $2M
King of Prussia Business Improvement District – linear park – $1M
SORA West – redevelopment for AmerisourceBergen – $2M
Kimmel Center – Merriam Theater renovations – $4M

Strategic Initiative: Our First Year Research Partnership with Beijing-Based Think Tank ANBOUND
Our research partnership with Beijing-based, independent Think Tank ANBOUND began late last year with a few early morning (for us) late evening (for them) telephone conferences. The relationship grew this year as we completed a few articles together for Present Value, the ESI blog, shared Anbound's insights on Chinese and world economics through our monthly newsletter and social media, and explored a western market for China Observation Anbound's newsletter. ANBOUND also joined the research coalition for our smart city thought leadership research study Building a Hyperconnected City.
Last month capped an active year with Dr. Richard Voith giving a keynote address during Anbound's inaugural Pedestrian Oriented Development Forum in Chengdu, China. For a recap of the forum and all our Anbound news, visit our webpage devoted to this strategic initiative.
The release of Building a Hyperconnected City, the second in our smart cities series completed in conjunction with ESI ThoughtLab, our thought leadership arm, sponsored by top-tier firms and research institutions, took place at the Smart City Expo World Congress in Barcelona, Spain last month. The culmination of nine months of surveys, investigation, and interviews, our analysis indicates that moving toward hyperconnectivity translates to a $60 billion return on investment worldwide.
A visit to the Building a Hyperconnected City microsite, which encapsulates all components of the project, provides our research findings in a multi-platform format. Here you will find the full report ebook, an interactive data navigator, case studies, articles, and insights from smart city and industry leaders.
Stay tuned to see what we have in store for the next thought leadership investigation into smart cities.
What are the jobs of the future? Technologies solutions giant Cognizant, which is at the forefront of the digital revolution, has engaged ESI ThoughtLab to regularly conduct a survey and analysis for their quarterly workforce index. Tracking the jobs of the future in the age of the algorithm is essential for business planning, and for educators who are preparing the future workforce.
ESI ThoughtLab,  Econsult Solutions' thought leadership arm, continues to provide global corporations with fresh thinking to stay ahead of the curve. And, on the heels of Building a Hyperconnected City, the research endeavor Driving Cybersecurity Performance has begun, set for a 2020 Q2 launch.
This list touches on some of the highlights. A perusal of the Our Impact section of the Econsult Solutions website will show the breadth and depth of the work we complete for our clients. We are looking forward to a busy 2020!